One million reasons why we should keep girls in school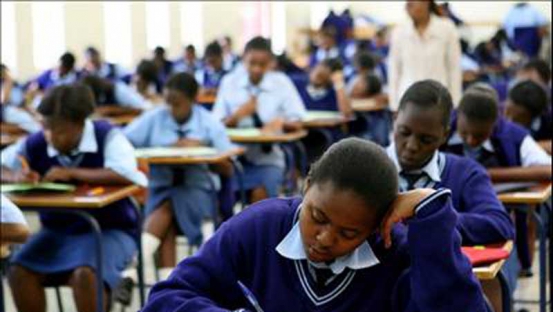 There is an emerging global awareness about the threat to education of adolescents from teenage marriages and early and unintended pregnancies. Early pregnancies not only cause girls to drop out of school, they also impact heavily on their health, social and economic outcomes.
According to the United Nations Population Fund, about 70,000 adolescents in developing countries die annually of causes related to pregnancy and childbirth. Statistics gleaned from Work Bank population datasets indicate that on average, Sub-Saharan Africa has the highest fertility rate among 15–19 year-olds, with 103 births per 1,000 girls.
"In most countries, early pregnancy is closely linked to child marriage and failure of governments to protect rights of girls to education," said UNFPA Executive Director Dr Babatunde Osotimehin.
Notably, that is the situation prevailing in Kenya, with the number of teenage pregnancies increasing from 755,000 in 2009 to almost one million last year, according to the African Institute for Development Policy (AFIDEP). In a study, Teenage Pregnancy Menace in Kenya, AFIDEP singled out inadequate access to education as the major cause fuelling the problem, as girls aged between 15-19 without education are about three times more likely to start child bearing.
National population datasets from the Kenya Demographic and Health Survey 2014 indicate 33 per cent of girls without formal education have already begun childbearing, compared to just 12 per cent with secondary education or higher level of education.
According to the United Nations Educational Scientific and Cultural Organisation, the problem of teenage pregnancy in Kenya as elsewhere in Sub-Saharan Africa is on upward mobility as a result of child marriage, a practice that is common in rural areas.
UNESCO says the practice is common in rural areas and informal urban settlements. "In Kenya, on average 49 per cent of young women in rural areas aged 20-24 years were married by age 18, as compared to 18 per cent in urban areas, while the national average stands at 26 per cent," says UNESCO.
Double responsibility
Currently, the highest percentage of adolescents aged 15-19 years who have begun child bearing is highest in Nyanza at 27 per cent, Coast at 26 per cent and Rift Valley at 17 per cent and lowest in Central at 10 per cent.
Despite the progress Kenya has made in improving children's access to education by enacting policies that allow pregnant girls remain in school and young mothers to return to school after giving birth, most of them drop out of the formal schooling system altogether.
"Pregnant girls and adolescent mothers may stay in school but they may disengage with learning and go unnoticed by teachers," says UNESCO in a study, Early and Unintended Pregnancy: Recommendations for Education Sector. The study was released last week in Paris.
In most circumstances, such students' quality of learning is also diminished by lack of concentration -- adolescent mothers are at risk of falling behind with schoolwork due to their double responsibility as students and mothers.
Take a quick survey and help us improve our website
Take a survey
According to Ian Timaeus, a professor of demography and population health studies at London School of Hygiene and Tropical Medicine, poor educational attainment, teenage motherhood and childhood poverty are interrelated problems in many countries in Sub-Saharan Africa.
A situation confirming the plight of teenage girls in most poor households in Sub-Saharan Africa was in some years back expressed by a 14 year-old girl in South Sudan who told human rights researchers in Juba: "I had always wanted to become a nurse, but one day, my uncle came home accompanied by a 50 year-old man and told me I was too old for school.
My uncle said the man was rich and that I should marry him so that he can feed us." Although the girl protested, her uncle firmly told her: "Akech, girls are born so that people can eat. All I want is to get my dowry." The man paid several cows and took Akech as his third wife.
In this regard, poverty and absence of high quality and comprehensive sexuality education are not just linked to teenage childbearing that not only interrupts or terminates girls' schooling, but put adolescents at high risk of contracting HIV/AIDS and other preventable diseases.
According to a recent study from the Ministry of Health, 29 per cent of all new HIV infections in Kenya are among adolescents and youth.
Such views are also held by the World Health Organisation that last week warned that although Sub-Saharan Africa had one of the highest global adolescent populations, it was also experiencing the highest rate of adolescent mortality. "Of 1.2 million adolescents that died in 2015 globally, 45 per cent were from the sub-region," says WHO in the study Global Accelerated Action for the Health of Adolescents. Adolescents worldwide share some common disease burden which identified girls at risk of female genital mutilation as one of the subgroups that were in greatest need of governmental protection and credible health and education services in Africa.
Rite of passage
According to UNCEF, one in five girls in Sub-Saharan Africa are forced to undergo female genital mutilation, a severe rite of passage that has no known health benefits. Hard evidence gleaned from different countries across Sub-Saharan Africa indicates that young girls who have undergone female genital mutilation are strong candidates of dropping out of school, become child brides and start childbearing early.
Datasets from the Kenya National Bureau of Statistics indicate prevalence of female genital mutilation is nearly universal in North Eastern region at 98 per cent compared with Nyanza (32 per cent) , Rift Valley (27 per cent), Eastern (26 per cent), Central (17 per cent), Coast (10 per cent) and Nairobi (8 per cent).
However, the prevalence is lowest in Western region where it stands at just one per cent.
There are indicators that the practice in Kenya decreases as education increases, as 58 per cent of women with no education are reported to have been circumcised compared with 12 per cent of those with a secondary level of education. Available evidence also indicates that circumcision among women in Kenya declines with increasing wealth, as only 12 per cent of women in the highest wealth quintile are circumcised compared with 40 per cent of women in the lowest quintile.
This means that households where parents lack or have low levels of education and are poor are likely to support female genital mutilation of their children. According to UNICEF, such situations have been observed not just in Kenya but in Eritrea, Sudan, Guinea- Bissau, Sierra Leone, Ethiopia, Guinea and Mauritania.
Unfortunately, although Prohibition of Female Genital Mutilation Act and Anti-Female Genital Mutilation Board have been established, authorities have failed teenage girls in communities where FGM is not just a rite of passage but also a business venture that benefit circumcisers and village elders.
But as UNICEF has pointed out, there is urgent need for the government not just to stand aside and fail to enforce its own laws and policies that are deemed to improve education and the quality of life of teenage girls.
However, the good news is that female circumcision in Kenya is declining, albeit slowly, as it declined from 38 per cent in 1998 to 32 per cent in 2003, 27 per cent in 2009 and currently stands at 21 per cent.
But no matter how one looks at it, it is hard to disapprove child marriages, unintended child pregnancies and female genital mutilation have become barriers to completion of basic education among teenage girls, especially those living in poverty in rural areas.
To fight drought, involve communities
According to the latest information from the Meteorological Department, rainfall will be poorly distributed in April, May and June, and this will have a serious impact on agriculture