Midwife, 71, ready to join Form One despite low marks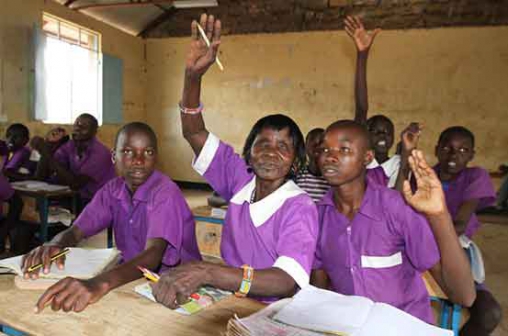 A 71-year-old midwife is among the 942,021 candidates who received their Kenya Certificate of Primary Education (KCPE) exam results on Thursday.
Loise Tukongole sat the examination at Chepturu Primary School in Baringo County and managed 142 out of the possible 500 marks. The mother of 15 was fondly referred to as Gogo, meaning grandmother, by her classmates who were only aged between 12 and 15, much younger than any of her children.
She scored 28 per cent in English, Kiswahili (26), Maths (33), Science (32) and Social Studies and Religious Education (23) and hopes to join Form One next month.
She joined the school four years ago at Standard Four and did not only do well in class, but also played soccer with the children, running around than some of them.
Tukongole, who has been a midwife for decades, said the knowledge she has acquired in school has improved her skills and enabled her to help many pregnant women.
"My education journey is still long, but what I have already gained in the last four years has enabled me help women from my community to deliver in safe environments unlike in the past. I felt exposed to HIV and Aids because of the poor delivery tools I used in the past," she said.
Tukongole said she had even helped the mothers of some of her teachers to deliver.
"I helped to deliver some of my teachers. I midwifed their mothers," she said amid laughter.
She said during school days, expectant mothers visited her during weekends and she assisted them to deliver in her home, which she shares with her children and grandchildren.
When The Standard on Saturday, visited her a day before the exam started, all her exercise books were neatly covered with old newspapers and smartly arranged inside a school bag made of goat skin decorated with green and red ornaments.
Cindy Jebiwott, 14, topped the class with 365 marks.
School headteacher Wilson Loliet said, "Some of the candidates who have been here since nursery school have scored even less than 100 marks. Despite Tukongole's advanced age, the grandmother was always a determined and hardworking pupil."