Makueni wins adoring fans at the national's of the annual Kenya Schools and Colleges Festival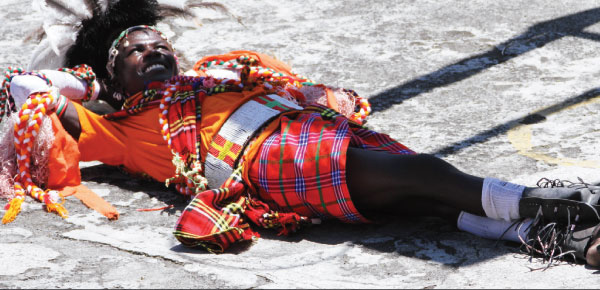 After his school won in the traditional dance category he could not help basking in the sun.
By GEORGE ORIDO
Within the hilly undulating slopes of Makueni County there lies a gem of talented musical pupils who have made it to the Nationals of the annual Kenya Schools and Colleges Festival in Nakuru.
In their participation they have become a beacon of hope for hundreds of primary school pupils from the county because they seem to be one of the very few schools to carry the county's flag after Nairobi took nearly all the slots for Machakos, Kajiado, Makueni and Nairobi in the larger Metropolitan Region.
And they have not disappointed as they have scored very high marks winning admiration from both adjudicators and colleagues.Like angel's they rose and opened their vocals as they sang Mary Had a Baby, a set piece in the English Style.Their well-blended voices in soprano and alto are serenading and soft. As the girls sing, "O dear mama, I am feeling so badly to go to the garden and find me a cure," the expectant air is solemnised as the pianist George Ouma keep to the beat in sweet harmony and syncronised accompaniment.
"Music is life. It is a beautiful language," shares Rita Mwende 13, who also conducts her colleagues. At some class Rita joins forces with classmate and age mate Teresia Ndunge, and together with Mary Akale they make such a compelling trio as they sing Lean on Me arranged by David Isindu and originally sang by Michael Bolton.
This song is perhaps a source of strength as the girls need each other to make it through this competitive jamboree – the largest in East and Central Africa now in its 87th edition. Girls in the St Teresa Kilungu choir are multitalented and equally hardworking. One thing that stands out is that the girls are proud of what they have achieved and they will walk with their heads forever high.
"What makes me tick is to see them happy and keeping their focus on life as a possibility of a bright future," says an equally jovial Makueni Deputy Governor Adelina Mwau who accompanied the children to Nakuru.
But Mwau also decried the lethargy in having local schools come to the festival and s urged county governments to especially support Early Childhood Centres to participate.
Heritage Insurance selects local firm for new IT system
Kenya-based IT firm Turnkey Africa and Heritage Insurance, a subsidiary of continental insurer Liberty Group, with their Head Office in Johannesburg South Africa, have signed a deal to install and roll out the latest version of the TurnQuest General Insurance System (GIS).