Kuppet gives 48-hour ultimatum on strike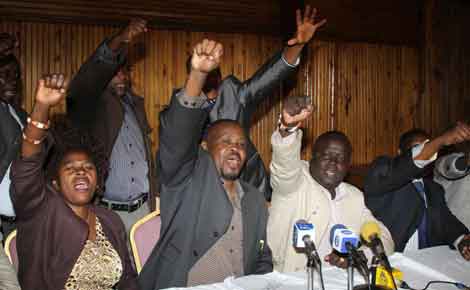 Kuppet o?cials (seated from left) Gender Secretary Catherine Wambilyanga, Deputy Secretary General Moses Nthurima and Vice Chairman Julius Korir with other o?cials in a solidarity song during a press conference in Nakuru Wednesday when they gave the Government an ultimatum. [PHOTO: BONIFACE THUKU/STANDARD]
NAKURU: The Kenya Union of Post Primary Education Teachers (Kuppet) has issued a 48-hour ultimatum to the Government to provide the union with a proposed counter-offer, failure to which it will take industrial action.
The demand comes after the Teachers Service Commission (TSC) withdrew a proposed counter-offer at a consultative meeting between Kuppet and Kenya National Union of Teachers (Knut) on Tuesday, despite having tabled it last week.
Kuppet Deputy Secretary General Moses Nthurima said TSC should not accuse the Salaries and Remuneration Commission (SRC) on the grounds it had not fully engaged the Government.
"Teachers are ready for action until they are issued with a full package of all required salaries, risk leave, house, overtime and medical allowances among other demands aimed at improving education standards," said Mr Nthurima.
Speaking in Nakuru, Nthurima said teachers' salaries should be increased by 200 per cent due to high inflation in the country, and house allowances by 50 per cent.
Nthurima added all teachers in job group L and above should be paid responsibility allowance: 40 per cent of basic pay to principals, 30 per cent to deputy principals, 20 per cent to heads of department and 10 per cent to class teachers.
The union also demands a scheme of service for post-graduate teachers to have an allowance equivalent to 40 per cent of current basic pay to those who qualify.
"Teachers should be provided with annual allowances equivalent to a month's basic pay among other privileges enjoyed by other civil servants," added Nthurima.
To improve performance in science subjects, the union said the Government should provide all science teachers with risk allowance of 20 per cent.
Teachers who work beyond their normal working hours will also be provided with overtime allowance if the union's proposal is approved.
The union's Vice Chairman Julius Korir said according to their demands, a contributory pension scheme should be provided for all teachers at 7.5 per cent for a teacher and 15 per cent for the employer.
Mr Korir said it was unfair for the Government to continue disobeying an agreement with teachers.
"The Government has approved sitting allowances for ward reps, governors and senators. Teachers will demand standing allowance if our demands are not going to be granted within the stipulated time," said Korir.
Concerning the impact of industrial action on national exams, Korir said it was upon the State to act quickly.
How mayhem landed Kenyans at the ICC
A spate of mass killings and destruction of property following the disputed 2007 presidential election is what landed Kenya at the International Criminal Court (ICC).