Support police officers facing mental health challenges
EDITORIAL
By Editorial | Jan 29th 2022 | 2 min read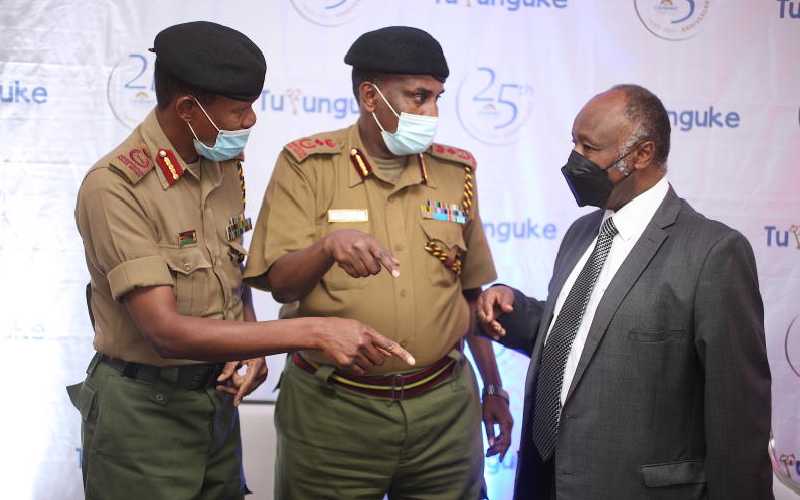 Reports that one in every 10 police officers is struggling with mental health challenges should prick Kenya's conscience and lead to government action and public support.
Policing is not a walk in the park, especially in modern society. Police officers battle family pressure, societal expectations and changing crime situations daily.
Keeping law and order is every government's mandate, which is executed through the men and women in uniform. It is therefore paramount that the government takes care of officers' welfare at all times. Their pay should be commensurate with their task.
Indeed, most police officers go beyond the call of duty to make citizens are comfortable. They protect lives and property. When a road accident occurs, police officers are called to handle the scene. They often find themselves at the scene without proper tools and protective gear.
After dealing with the mess, the officers retire home with horrific images of bloodied victims. Without adequate and proper counselling, they are bound to suffer mentally. When you combine the harsh working conditions with the fact that they are not well paid, the officers are bound to be stressed.
This might explain the alarming incidents where officers turn their guns against themselves, their colleagues and even loved ones. Psychologists warn that a stressed human being is prone to making costly mistakes and hasty decisions. A stressed police officer armed with a weapon is a danger to himself or herself and those around.
While the government has stepped up efforts to improve working conditions and terms of service for police officers, a lot is still needed. Besides salaries, working hours, equipment, housing and health insurance, police officers should get adequate and constant counselling. The younger officers, for instance, would require a closer eye from mental health experts and experienced officers.
The Independent Policing Oversight Authority (IPOA), besides handling public complaints against the police, should also agitate for the welfare of the men and women in uniform. How about commending officers and communities that make policing easier and for the benefit of society? This would make IPOA a caring outfit and not just one to receive complaints about the police.
Civilians should also support police officers in carrying out their duties. How about volunteering timely information on criminals and illegal activities to the police? This would help weed out criminal elements and nip in the bud terror activities. When police officers and civilians cultivate trust in each other, crime will reduce and economic growth will be almost guaranteed.