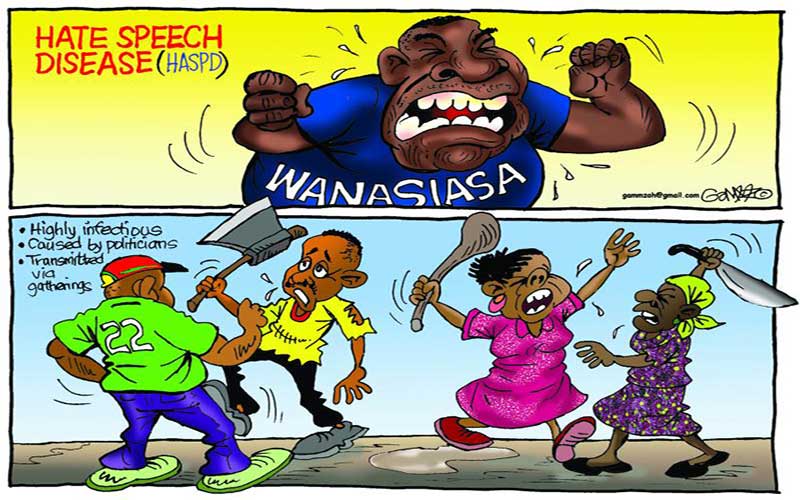 Amid the current rising political activities, it is easy to blame the messenger, point fingers at one another, and fail to call out the offending party. Yesterday, the National Security Advisory Committee (NSAC) issued a statement on the growing political tension. The team rightly noted that unchecked utterances and political weaponisation of public gatherings were undermining the rule of law. This disregard of the law has triggered violent confrontations.
However, there was nothing new from the team led by Head of Public Service Joseph Kinyua, besides blaming the media for the happenstance. The fact is that it is senior government officials breaking the law. It is politicians spewing hatred in public. It is elected leaders taking any available podium to incite one group against the other. And they are doing this because of government's lethargy in acting on law breakers.
Indeed, there are enough laws against hate speech and incitement, but the government has dithered and watched either helplessly or with glee, as some politicians sow seeds of discord and division. It cannot be that the long arm of the law cannot catch up with anyone inflaming political passions. It is defeatist to blame the media for doing what they exist to do — report and inform Kenyans about what is happening around them. The government must come out strongly and heavily punish those fanning violence and stoking ethnic hatred.
The rising political decibels do not augur well for the country's economic and social stability. Playing politics of identity and classifying people as us-versus-them is a dangerous route for our country. It has been deployed before with fatal outcomes. It is time we paused for a moment and looked deeply at all political groupings and what the future portends as the highly competitive presidential contest nears.
Read More
To bring back sobriety, the National Cohesion and Integration Commission (NCIC) should raise its voice, which currently is just a whimper. The Reverend Dr Samuel Kobia-led commission has been accused of issuing feeble threats to hate mongers and showing no bite when influential politicians are put to task over their utterances in public. There has been no decisive action from the NCIC against politicians spewing hatred and incitement, hence the growing impunity. This is the time for the commission to act and not bury its head in the sand.
Tasked with encouraging conversations on peaceful resolution of conflicts and easing ethnic tensions, the commission should step up its activities especially now that political contests are shaping up.
NCIC officers should be heard warning Kenyans on dangers of playing political hardball. The officers should be monitoring offending remarks in political rallies, public meetings, mainstream or social media, and punishing perpetrators irrespective of their political leaning.
In the past, action seems to have only been taken against leaders opposing the government of the day, which is unfortunate and beats the principle of neutrality. When you punish one side only, it becomes a charade and the commission loses credibility, leaving the country in a worse situation.
Ethnic animosity
The commission should also inform Kenyans that politics can be conducted without fanning ethnic animosity or resorting to violence. Getting elected to any position, including the presidency should not be a matter of life and death.
NCIC should also be at the forefront reminding Kenyans that every life matters, and that no one deserves to die due to political contestation. It should, for instance condemn the killing of two young men in Murang'a during chaos between two rival groups. And not just criticise, it should initiate narratives in the grassroots on the need to shun violence and expose the warmongers among politicians.
The commission should not just speak out after lives have been lost, property damaged and relations between communities poisoned. They should deliberately go out to the grassroots and foster unity and gradually neuter negative ethnicity. Discouraging tribal chasms should be a continuous project by the commission through various activities.
But even as we wait for NCIC to crack the whip and preach the gospel of peaceful coexistence, we urge the police to do right thing at moment. They
Police must bring to book all those who plotted, funded, maimed and killed people in Kenol Murang'a County last Sunday.