Leave gender issues out of fight against corruption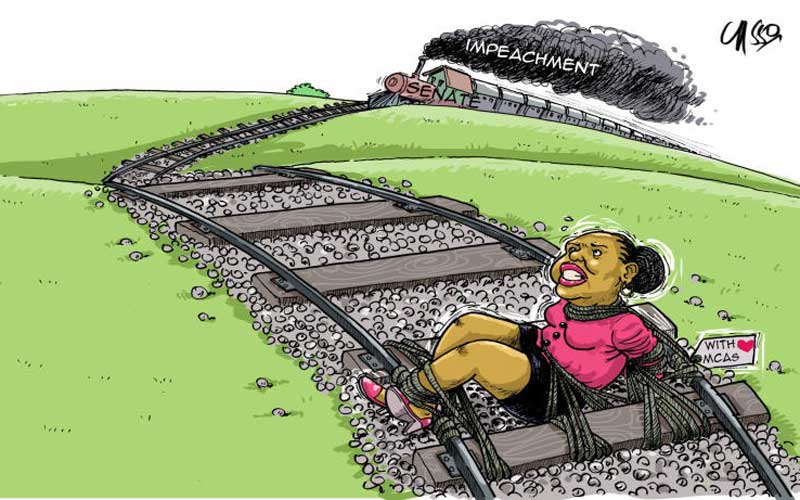 The legality of the impeachment of Kirinyaga Governor Anne Waiguru is for the court to determine. What should not be subjected to interpretation, however, is that the deed by Kirinyaga Members of County Assembly was against an individual, not gender.
Viewed in that light, it is dishonest of Cabinet Secretary for Public Service Margaret Kobia to play the gender card in defence of Waiguru. Kobia made the claim that Waiguru was impeached not because of impropriety, but simply because she is a woman, and a strong one at that.
It is wrong to look at such a weighty national matter through a gender prism. Waiguru is not the first governor to be impeached, and certainly not the last. Embu Governor Martin Wambora was the first governor to face an impeachment, yet no men stood up to hold brief for him. He fought his own battles and emerged victorious.
Kiambu Governor Ferdinand Waititu was next on the chopping board. He fought his own battle, but lost. Waiguru's case cannot be looked at on the basis of gender when what is at hand is the matter of accountability and personal integrity.
It would be wrong to approach the fight against corruption and impunity from the gender perspective. The law should be allowed to take its course. If Waiguru is innocent, she will be vindicated. If she is found guilty, then the punishment would be hers alone, not that of Kenyan women who, like men, toil to earn an honest living.
Sentimentality should not be allowed to hold the fight against misuse of public resources, impunity and corruption to ransom.