Rendering people homeless in the middle of a pandemic is heartless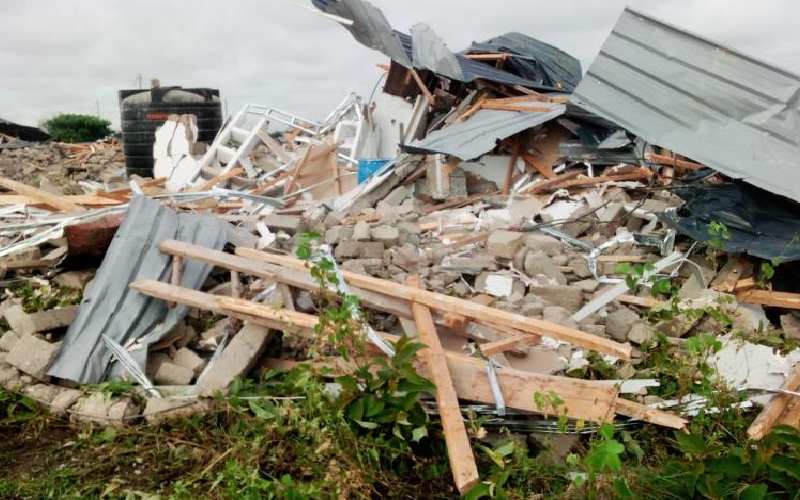 The government has once again done the unthinkable. It plugged its ears to public outcry and flattened scores of houses allegedly put up illegally on land belonging to Nairobi Water and Sewerage Company (NWSC) on Saturday night, leaving hundreds of people homeless.
We would like to crystal clear from the outset. There is nothing wrong with the government recovering what belongs to it. If the land in question had been grabbed, the government was in order to recover it, and use as originally intended --in this case to expand the sewerage plant.
In any case, land grabbing is endemic in this country and only tough action like this can bring it to and end. In fact only weeks ago the government recovered 1,600 acres in the same area said to have been illegally acquired by developers.
But while we encourage recovery of all grabbed public land, we find the latest Ruai evictions reprehensible. This is because they come shortly after the Kariobangi ones which sparked widespread public outrage.
In the Kariobangi case, about 5,000 people were rendered homeless. At the time, we pointed out here that the government, may have been justified to evict the people but the timing was wrong.
This is because we are smack in the middle of a pandemic and Kenyans are required to do certain things. Among others, the government requires people to stay at home. Shelter is extremely important if we are to stay alive.
After the Kariobangi incident, Kenyans questioned why the government was rendering people, including children, homeless at this time, thus increasing their likelihood of contracting the coronavirus.
In fact, rendering more Kenyans homeless at a time when thousands of people left homeless by floods are crying out makes the government appear insensitive to the plight of its people. Just why is the government in a hurry to evict people? And why is it demolishing houses at night when it requires people to stay indoors due to the curfew?
Shockingly, both residents of Ruai and Kariobangi claim to have had court orders stopping the demolitions. That begs the question, if the government cannot respect court orders, should ordinary Kenyans respect them? The government is clearly setting the wrong precedence.
Above all, the government has wronged these people, who like most Kenyans, are suffering due to the pandemic. That is why some of them believe they have been treated worse than sewage, and that they would be better off dead.