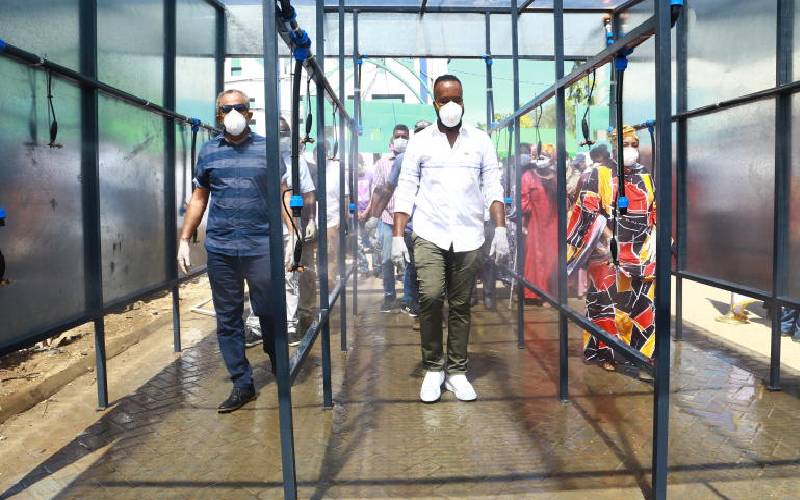 Mombasa county has turned to technology to fight the current COVID-19 pandemic.
Governor Hassan Joho (pictured) on Monday launched a sanitizing spray booth for ferry passengers. As they pass through the passengers are sprayed with a disinfecting solution before they can board the ferry.
The booth, a first in Kenya, was built and tested in two days before it was installed at the Island side of the crossing channel on Sunday. A single booth can disinfect 12 people per minute.
The solution, which is locally made is friendly to the human skin and body, contains antibacterial, anti-fungal and virucidal elements that attack any germs and the Coronavirus should it be found on one's skin.
Read More
Joho's effort is a perfect complement to the efforts by the national government to combat the killer disease. It is an example that other counties should emulate if we are come out on top of the pandemic. They might not be able to put up sanitising booths but in their little way the counties can do more to combat coronavirus.
In Kajiado, governor Joseph Ole Lenku has deployed county askaris to various parts of the county to enforce social distancing. Like in many parts of the country, Kenyans are not following the Government's health guidelines like social distance. Yet it is one of the things that will help to bring down the fast surging infection rate.
While it is difficult to have to have a special team that moves around ensuring that people keep a safe distance from one another, that Ole Lenku has even given it a try is commendable.
Meanwhile the Government continues to bank on Kenyan's 'understanding' on the seriousness of Covid-19 to maintain social distance.