Sossion's threat to paralyse learning next year uncalled for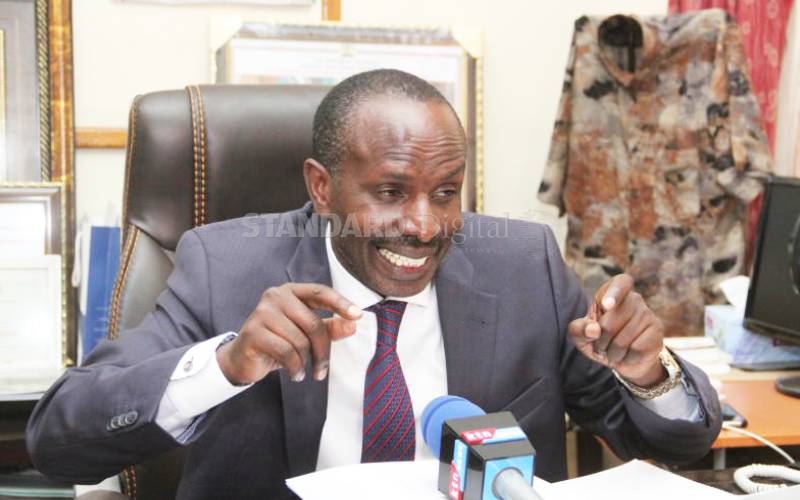 Kenya National Union of Teachers (Knut) has issued a strike threat at the most inopportune time -when 2019 KCPE candidates are celebrating their fete and gearing to join Form One.
This is not entirely surprising because it follows a pattern. Over the last few years, Knut, through its Secretary General Wilson Sossion, has always threatened industrial action at the beginning of every year.
Such calls to industrial action resulted in protracted strikes that adversely affected learning in 2015 and 2016. This was occasioned by bickering between Knut and the Government over the implementation of a Comprehensive Bargaining Agreement.
The end to that standoff came as a relief, especially after Mr Sossion announced there would be no more teachers' strikes.
As it stands now, he has reneged on that promise by threatening to call for a strike in January 2020.
During the ongoing Kenya Primary Schools Head Teachers Association meeting in Mombasa, teachers demanded the dismantling of the centralised procurement of course books, a stop to delocalisation of teachers and suspension of National Education Management Information System (Nemis).
They also demanded that head teachers be allowed to join unions. It would be imprudent to dismiss some these concerns out of hand, but truth be told, they call for nothing more than round-table discussions by stakeholders. It is wicked to continually hold learners to ransom over issues that can be amicably solved.
Already, Cabinet Secretary for Education Prof George Magoha has dismissed the demands by teachers, in particular, regarding procurement of books and Nemis. What led the Government to adopt a centralised procurement system, as Magoha rightly pointed out, was the menace posed by cartels that made a killing out of the book business. The possibility that the cartels have regrouped cannot be discounted.
In a world that is increasingly going digital, teachers should demand an improvement in the manner Nemis is managed, not a total scrapping of the system. Nemis has eliminated instances of cheating where some schools inflated student numbers to get more capitation funds.
Bad blood between the Teachers Service Commission, Knut and the Ministry of Education should not be allowed to cloud learning. The roles of both parties are clearly defined and where misunderstandings arise, dialogue should be given a chance. In as much as the Government could be at fault in some instances, Knut's propensity for militancy could be the fly in the ointment.