Before going to borrow, first show you can use funds well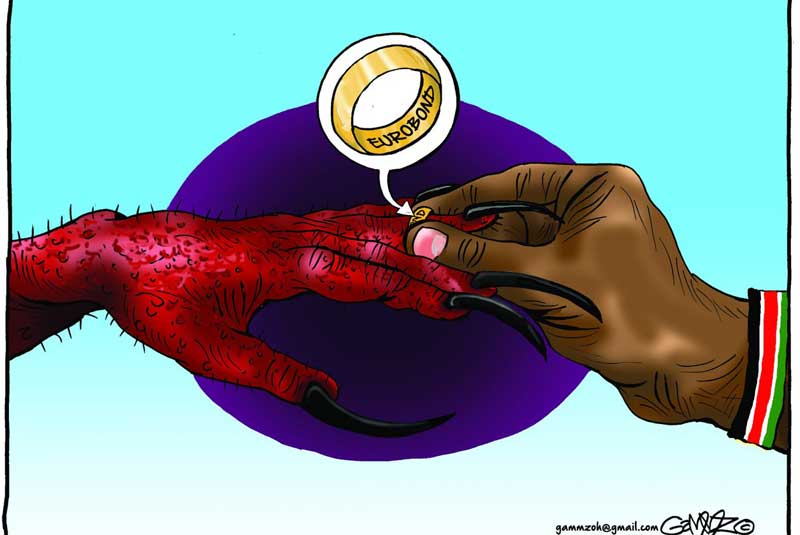 Last weekend, President Uhuru Kenyatta sought to assuage the fears of many Kenyans who have wearied of the mounting public debt.
For Mr Kenyatta, borrowing would help close the infrastructure gap and the benefits from that would be realizable in the long term. That the pain will eventually yield some gain.
And last week, his Deputy William Ruto appealed to development partners for more funds to fund the President's Big 4 Agenda.
Mr Kenyatta's wish is that by the end of his second term in 2022, every Kenyan will have access to critical healthcare services; not sleep on an empty stomach; have a well-paying job and a roof on their head. Even the harshest critics of President Kenyatta agree that the Big 4 is a noble project capable of transforming the country.
But there was an elephant in the room: corruption, inefficiency and wastage. At the meeting at Hilton Hotel, which was chaired by Mr Ruto, every participant knew this just too well and never shied away from talking about it. The donors think little has been done to address the scourge; Mr Ruto thought otherwise, but acknowledges that corruption exists in the public sector.
For many Kenyans, the problem is made worse because what is pilfered or wasted is actually borrowed money. Would that we hadn't borrow.
There is no question that debt is a good ingredient of development. Just to be sure, this newspaper has insisted that borrowing is healthy. What we have advocated for is prudent spending of these funds. Our insistence is that the taxpayer ought to get value for their money. Nothing else.
Nobody doubts that the economy needs a serious injection of funds to keep it working at an optimal level. But then many Kenyans are frightened about what has gone wrong before.
The question really is who will take care of public interest? Certainly not Parliament that has always looked the other way or been too eager to get onto the gravy train than be the public watchdog. In fact, the MPs are known more for rent-seeking than for making good, sound laws that preserve the common good.;
Not the beleaguered Ethics and Anti-Corruption Commission whose abiding image is that of an institution trying (unsuccessfully) to prove its worth even as State capture takes over the country;
Not the National Treasury whose well-paid and pampered mandarins treated the country to a great obfuscation on where proceeds from the $2 billion Eurobond in 2014.
Not the Auditor General whose reports of malfeasance have been ignored time and again. That is in spite of the reports detailing all the wrongs in the spending.
And certainly not the smothered civil society whose significance in the Kenyan society has diminished over the last 15 years.
Indeed, three of the agendas- Universal Healthcare (UHC), food security and nutrition and job creation through enhanced manufacturing- has been rocked by corruption claims.
Indeed, most development partners including Britain, Germany and the United States have since suspended their aid to the Ministry of Health following revelations last year that top Ministry of Health officials stole more than Sh5 billion through diversion of funds, double payment for goods, and manipulation of the Integrated Financial Management System (Ifmis).
On food security, the National Cereals and Produce Board (NCPB), is embroiled in a scandal which has seen a number of its top officials arrested and charged while farmers are still waiting to be paid for last year's deliveries in spite of a Sh2 billion payout.
Manufacturing, the plank of Kenyatta's plan to create jobs, has also been hit. The Export Processing Zone Authority (EPZA) being investigated by the Public Procurement Regulatory Authority over Sh1.3 billion tender where it paid several firms for work not done. The EPZA is also said to have negligently approved the construction of a new leather park in Athi River on swampy ground, and where taxpayers could lose investments worth over Sh500 million after a deluge swept away walls, road grading and sewerage lines which had been erected. The Sh10 billion project was expected to create thousands of jobs when completed.
The tragedy is that most of this was borrowed money. It is too early to tell the impact of the recent crackdown on corruption, but it served to send the right signal to donor partners and stakeholders like the private sector that it will no longer be business-as-usual.
But more needs to be done. In addition to the arrests and prosecution, which obviously deter would-be swindlers, efforts should be deployed to make engaging in corruption not the easy option.
That calls for sound policymaking- which is lacking. The reality is that corruption in most places thrives because of the bureaucratic contortions to maneuver to get a road tender approved or to even get paid for goods and services supplied.
Though technology was touted as a sure way to minimize corruption in public service, the experience from Ifmis has proven otherwise.
Most importantly, authorities must advocate for a mental shift. The people must be made to eschew corruption and those who engage in it. Glorifying the corrupt and elevating them to positions of authority undermines the war on corruption.
Making the people to hate corruption will therefore deliver the killer blow needed to eradicate corruption.