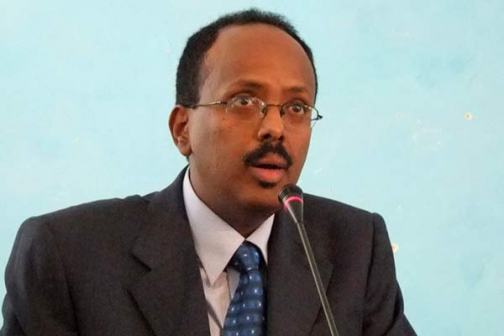 The build-up to the Somalia presidential elections was anything but peaceful, yet they had to go on as scheduled.
Al-Shabaab militias still roam the capital, Mogadishu, despite the presence of peace keepers from the African Mission in Somalia (Amisom). Al-Shabaab has occasionally ambushed peace keepers, as happened to KDF soldiers at Kulbiyow recently and El Adde a year earlier. Ugandan forces have also suffered casualties.
The determination by Somalia's neighbours, who bear the brunt of Al Shabaab and the African Union, has been to ensure Somalia must find its footing again after the overthrow of deposed President Siad Barre in 1990 threw the country into pandemonium from which it has been hard to extract itself.
On Wednesday this week, Abdullahi Farmajo was elected Somalia's new president to replace President Hassan Sheikh Mohamud. Having taken oath of office in Mogadishu on Wednesday, Farmajo declared, "This victory belongs to the Somali people." Indeed, that is as it should be. Farmajo offers hope to a country torn apart by three decades of war.
That alone makes Mr Farmajo's job the toughest presidential job on earth; not least because Somalia fits in the category of failed states. Extracting Somalia from the deep hole it finds itself in is not for the faint-hearted, and Farmajo must give it his best. But of greater significance is the new beginning that Mr Farmajo's election signals for Somalia.
It is up to Mr Farmajo to unite Somalia's fractured people and transform it from a pariah state, a breeding ground for terrorists to a stable country. He will have to weave through sectarian interests and cobble up a nation-state out of the many splinter groups that shred Somalia's national fabric.
Surely, the people of Somalia deserve better. History will be kinder to Mr Farmajo if he executes his mandate conscientiously.