Embrace climate literacy to boost innovations in green sector, Kombo says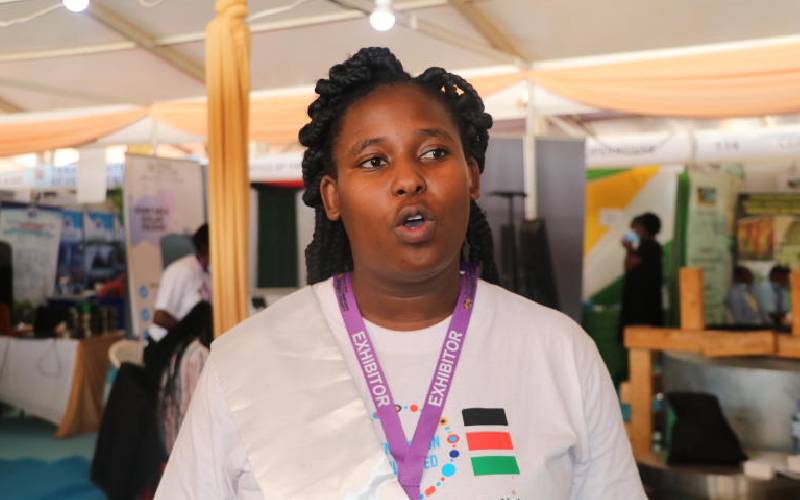 Climate literacy remains a major booster to innovations in the green sector, an environmentalist has said.
Patricia Mumbua Kombo, from Makueni County, said a time has come for people to change their general view on matters of climate change.
In an interview with The Standard, Kombo said climate literacy will play a key role in raising a generation that loves, understands and protects nature.
She said such will foster a generation that is well informed on how to adapt, mitigate and survive in the climate crisis.
Kombo said the literacy programmes should involve local communities who are key players in conservation.
"Climate change is disrupting economics, thus the need to change the mindset of children to fit in the greener circular economy and gain the needed skills to remain relevant in the wake of the climate crisis. Through climate literacy we will have a lot of innovations in the green sector," said Kombo.
She trusts that a change will be embraced as soon as possible and peoples' mindset will completely love nature.
"When computer literacy was introduced, nobody knew the advantages it would bring and how it would end disconnect. Today we can do e-commerce, zoom meetings which is evident that everything has been enabled. The same applies to climate change and conservation. Solutions cannot be achieved from the boardroom but by people understanding the issues and taking action," she said.
The 25-year-old Kombo said it is for this reason she has been engaging young people to embrace the issue of tree planting from the childhood level.
"Since I started my conservation I have seen a change in attitude from people, students, and communities towards nature. Have seen sustainable land use and consumption from people and change of what was perceived to be 'norm' which means people lack right information of conservation and that communities need simple information which they can implement in their daily activities," she explained.
Although Kombo remains unnoticed even as the curtains fall on the three-day devolution conference in Makueni County, she took advantage to sensitise those who visited her stand on the importance of taking action to curb effects of climate change.
Kombo is a passionate environmentalist who wears many hats: From a communicator, a United Nations Convention to Combat Desertification (UNCCD) Land Hero to a youth present representative for World Future Council, she is an awardee of Top 35Under35, the youth of the year, Environment category.
Besides her efforts to champion climate change, Kombo also advocates for sustainable land use with an aim of ending hunger, malnutrition, and poverty in rural communities.
She said she started growing trees at her school which was part of school's curriculum under the environmental club.
"In 2019 after I visited Turkana during the Kenyans for Kenya initiative during the prolonged drought, I had a conviction to champion for the rights of children and address climate issues," she said.
She said during the initiative, her work revolved around networking and partnering with schools, introducing environmental clubs, growing trees, and kitchen gardens, and environmental care.
According to her, watching innocent children and their mothers suffer the adversities of weather was remains the most painful experience in her life.
"It served as an eye-opener and triggered quick action, a fire I had but until I observed at close range, the suffering began burning. So I started the Pa Tree initiative as my humbling contribution in 2019," she said.
Kombo said she is driven by the fact that a child without environmental knowledge is like a bird without feathers and that there is a need to raise a generation that understands what is climate and how to address it.
"I remember growing up along the slopes of Mbooni hills, agriculture then, was profitable. I observed, students of my age engaged in farming activities and, we had 4k clubs which today are no more. Months later, I'm glad it's gaining momentum. I aim at preserving our planet for future generations to have a taste of what I had," she said.
Kombo said she has been to 15 schools where she has led and donated trees and carried out environmental awareness.
During these visits, she engages pupils in planting trees, both fruit trees, and non-fruit trees with an aim of boosting nutritional value.
"My mobilisation this far has seen us plant about 50, 000 seedlings which also include fruit foods with an aim of fighting malnutrition as well as preserving our environment," she disclosed.
She goes by the proverb, charity begins at home, and that is why she has been rallying family members and close friends back home to embrace her ideas before spreading them elsewhere.
"Farmers from my village, as well, are since planting fruit trees in their compounds. This is so rewarding. And, the invitation by school heads to their schools is overwhelming and humbling in equal proportions," she said, as she maintained that people must change their own regions and beyond.
Kombo also called on world leaders to deliberate on climate change issues and to put into practice issues raised in such forums through community, and people-driven processes.
"World leaders attend conferences every year to deliberate on the same issue, we have policies and solutions on paper, but the majority of the custodians of nature are not involved, and no action is taken," she said.