Officer denies killing lawyer and his client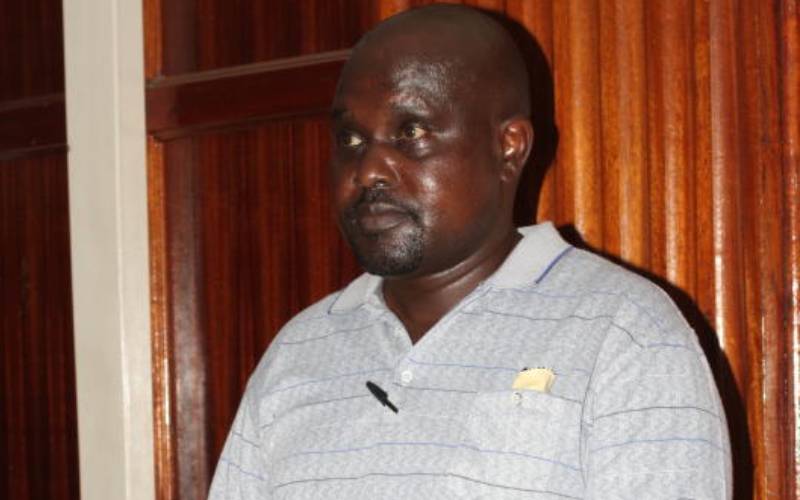 A police officer said to have masterminded the murder of a lawyer; his client and a taxi driver yesterday took to the witness stand to defend himself after he was found to have a case to answer.
Fredrick Leliman said he had no motive to murder the three innocent souls and distanced himself from the killing that took place in a field at Soweto area of Mlolongo within Machakos County on the night of June 23, 2016. "I did not hatch any plans to eliminate any of the deceased persons. I was at work on the day the incident happened and later went to Nairobi to meet my sister-in-law. The confession recorded by my co-accused that I met him to plan the murder is not true," said Leliman.
Leliman and his co-accused Stephen Morogo, Sylvia Wanjohi, Leonard Maina and Peter Kamau were last month found with a case to answer for the murder of lawyer Willy Kimani, his client Josephat Mwenda and taxi driver Joseph Muiruri.
He admitted to arresting Mwenda and taking him to Mavoko courts for being in possession of bhang, resisting arrest and gambling, which was the genesis of the problem.
He also admitted to shooting Mwenda's arm and said it was not to kill but to subdue him after he removed a knife to attack an officer.
According to Leliman, the dispute with Mwenda started on April 10, 2015, while he was on patrol when he received information that there was a place people gambled and later stole from the public.
He said he went to the place with other officers, but when the people spotted them, they ran away. An officer however arrested one person. The OCS arrested two others.
"One of the officers went to arrest the man who had a motorcycle but the man removed a knife and the officer screamed. I told him to put the knife down and surrender, but he refused. I realised our lives were in danger and I shot him on the right hand," said Leliman. He said that after shooting and disarming Mwenda, they took him to a hospital in Athi River where he used his money to clear the bills before taking him to the police station and subsequently to court to face the charges.
The prosecution's case was that this was the incident that cost Mwenda his life alongside his lawyer and the taxi driver. Aggrieved by the decision to charge him with falsified offences, Mwendwa is said to have reported the matter to Independent Police Oversight Authority (IPOA) and sought help from the International Justice Mission.
It is alleged that the complaints to IPOA made Leliman feel his job was at risk, hence hatching a plot to eliminate Mwenda. Evidence submitted in court showed that on June 23, 2016, Mwenda and Kimani went to Mavoko court for hearing of his case, but were arrested alongside the taxi driver after the case and locked up at Syokimau police post.
One of the accused confessed that on that night, Leliman and the other accused officers picked the three from the station and took them to an open field in Soweto, killed them and dumped the bodies in a river. But Leliman told Justice Jessie Lesiit he had travelled to Nairobi on the fateful day and was not anywhere near Mavoko law courts and neither did he meet any of the three individuals.