Kitui family bears the high cost of treating rabies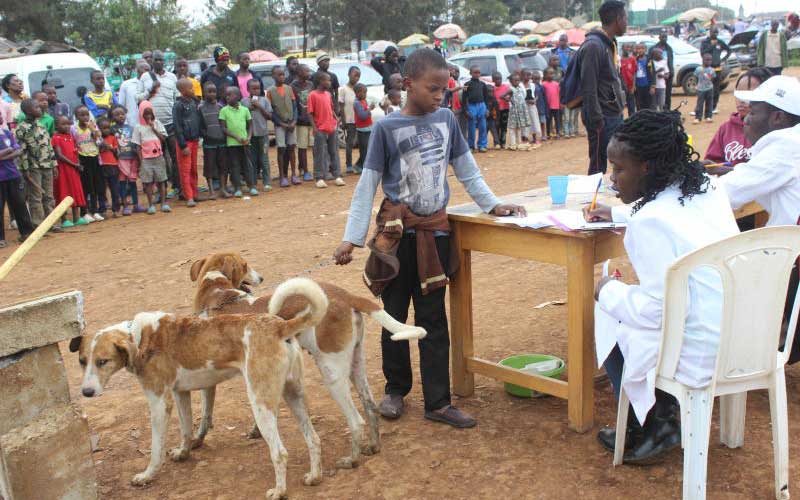 One late evening two weeks ago, Faith Musenya, 10, was walking to Tseikuru where her mother had sent her. Before she could reach, a dog attacked her and wrestled her to the ground.
Locals who heard the girl's screams responded swiftly and killed the dog to death.
That marked the beginning of a journey in search of treatment for the girl , whi, ir beibrffor a possible exposure to rabies.
"I was away from home but when I received a report that she had been attacked by a rabid dog I immediately rushed back," said Simon Mwasya, the girl's father on Thursday as he prepared to take her back to Agha Khan Hospital for the last leg of treatment.
Mr Mwasya said that his first port of call was at a private clinic within Tseikuru market where his daughter received first aid. He was then informed that she needed an immediate rabies vaccine and a four course injection of rabies immunoglobulin to prevent her from contracting the killer disease. The private clinic did not stock these.
The father then rushed the girl to Tseikuru sub-county hospital where he was told anti-rabies treatment was not available. "With the help of a doctor friend, we made a call at Kyuso Level Four hospital but they too did not have the medication. We made another call to Mwingi Level Four hospital and again there was no such treatment," he said.
His last hope was Kitui County Referral Hospital, or so he thought where he couldn't get the vaccine also.
"That night I spent over Sh1,000 on airtime making calls to different health facilities within the county looking for rabies treatment but I was shocked we have no such in the whole county," said Mwasya. Keen on saving his daughter's life and racing against time, Mwasya, on the advice of a county veterinary officer, opted to seek treatment in Nairobi. He prepared the girl and her mother to board the next available matatu to Nairobi, about 260km away.
At 1am, mother and daughter boarded the first Nairobi bound vehicle and by 7am they were at Aga Khan University Hospital, where the girl was immediately admitted for six hours. Here, she got the rabies vaccine and the much needed immunoglobulin injection. Rabies post-exposure prophylaxis (PEP) is not readily available in rural Kenya and where the treatment is available in private hospitals, mainly in major towns, the cost of treatment is way too costly.
On the day of admission, Musenya's family paid Sh57,000 for the treatment. That, plus the cost of transport from their rural home has shot up about Sh70,000, according to her father. Since the girl is still an outpatient at Agha Khan, Mwasya estimates the total cost of treatment will clock Sh100,000.
"Such a vaccine should be available in almost every hospital especially in rural areas where these incidents are many. I am lucky to have a medical cover otherwise I wouldn't afford such a medical bill. The government should ensure all rural health facilities are stocked with this crucial vaccine," Mwasya stated.
Dog population
Yet preventing rabies is a simple and effective exercise that is never taken serious. According to Dr Joseph Othieno, a veterinary practitioner and a health communication expert, rabies can be eradicated by vaccinating 70 per cent of the dog population in the country.
"It costs between Sh100 and Sh200 to vaccinate a dog but most people don't do this, mostly because of lack of awareness on rabies," Dr Othieno noted. A victim exposed to rabies has only 14 days to get the necessary treatment, he adds. Dr Othieno said that in humans, rabies attacks the central nervous system and is characterised by staggering, slurred speech and drooling of saliva. The victim might also develop phobia for water and light. Once these clinical signs show up, there is no remedy and death is inevitable.
For treatment, Dr Othieno said a victim bitten by a suspect rabid animal should first receive the rabies vaccine. "This is followed by three immunoglobulin injections," he explained. Awareness around rabies is still very low in rural areas where also stray dogs are many. Dr Othieno said there is need to raise awareness on the neglected disease through awareness campaigns.