Raila did not insult Kamba women, say Machakos MCAs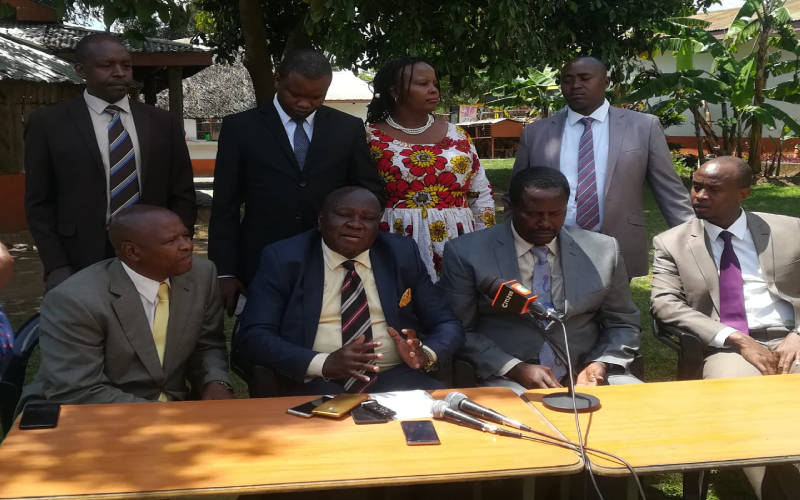 A host of Machakos MCAs have come out to defend ODM party leader, Raila Odinga over accusations that he uttered derogatory remarks towards Kamba women.
The accusations came from a section of politicians from the Wiper party.
The MCAs also declared the Kamba community was fully in support of governors Kivutha Kibwana, Alfred Mutua and Charity Ngilu in their resolve to work with the former Prime Minister, saying the move will benefit kamba community living in Kibra constituency.
Addressing the media at a press conference convened at a Machakos hotel on Tuesday, the MCAs led by Kangundo West Ward legislator, Titus Kaloki urged the Kamba voters in Kibra to ignore claims that Raila termed Kamba women as 'sexually loose.'
Raila, cracking a political joke on Saturday said Kambas as faithful people who are keen at keeping promises.
"You know Kambas are faithful people. They are like women. If they promise anything, they must fulfill," Raila said.
However, Raila's remark attracted a swift condemnation by a section of Wiper politicians including former Kathiani Member of Parliament, Wavinya Ndeti, MPs Patrick Makau (Mavoko) and Robert Mbui (Kathiani) who sensationally claimed Raila's remarks amounted to insults.
But the MCAs termed the Wiper party politicians' reaction as 'desperate and opportunistic' political propaganda.
"Those attacking Raila over his remarks are simply seeking cheap political mileage after sensing defeat in Kibra. We are asking Kamba voters in Kibra to ignore them and vote for the ODM candidate," he said.
The MCAs further claimed the resentment by the Wiper politicians was a desperate plot to sway the Kamba votes against the ODM candidate.
They claimed the Wiper politicians behind the accusations were afraid of the unity displayed by the three governors.
"Obviously they are worried about the political unity by our governors. They are alive to the fact that their leader has no solid political stand to guide the Kamba community," said Kaloki.
Governors Mutua, Ngilu and Kibwana who joined Raila last weekend to campaign for ODM's Bernard Okoth have also dismissed as propaganda claims that Raila insulted Kamba women.