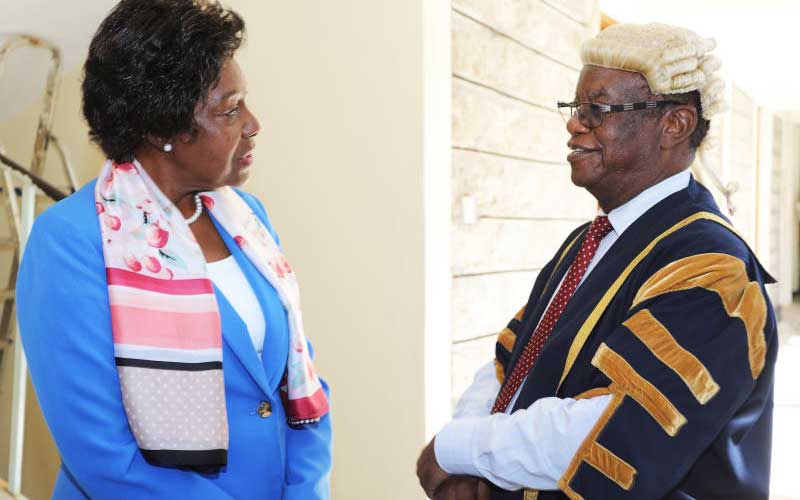 The political supremacy battle between Kitui Governor Charity Ngilu and County Assembly Speaker George Ndotto has resurfaced, this time at the High Court.
Ngilu has sued Ndotto, accusing him of delaying release of county funds. She is seeking orders to compel the speaker to release a letter that would allow the National Treasury to disburse funds to Kitui.
However, the Speaker says the case was instigated in bad faith and politically founded.
Ndotto, a former Cabinet minister, says the application by the governor to have him declared unfit to hold public office and held in contempt of court are outrageous.
In his defence submitted to court on Wednesday through lawyer Apollo Muinde, the speaker says the matter before Justice Lillian Mutende is "obsolete, vexatious, malicious, scandalous, politicised, and a waste of the court's time".
Read More
Ndotto and Ngilu have been political rivals since 1992 when the governor ousted the former minister from Kitui Central parliamentary seat and went ahead to beat him in the succeeding elections in 1997, 2007 and 2012.
"Indeed, the allegations made against me personally are intended to advance political interests and not to compel the performance of any lawful duty. In any event, the procedure for my removal is stipulated in a different annexed legislation formula," says Ndotto in his affidavit.
He says the oversight was rectified in good faith and on time, hence rendering the suit unnecessary as it was filed after the Finance executive had received the authorisation and was on course of processing the money.
He wants the suit dismissed with costs.
Justice Mutende ruled that Ndotto and Ngilu file their written submissions within three days from Wednesday. The case will be mentioned on July 26.
Ngilu has been embroiled in a political tussle with the County Assembly for the past few months over budgetary allocations and corruption claims. As a result, the MCAs rejected the governor's Sh11.6 billion supplementary budget for the 2018/19 financial year.