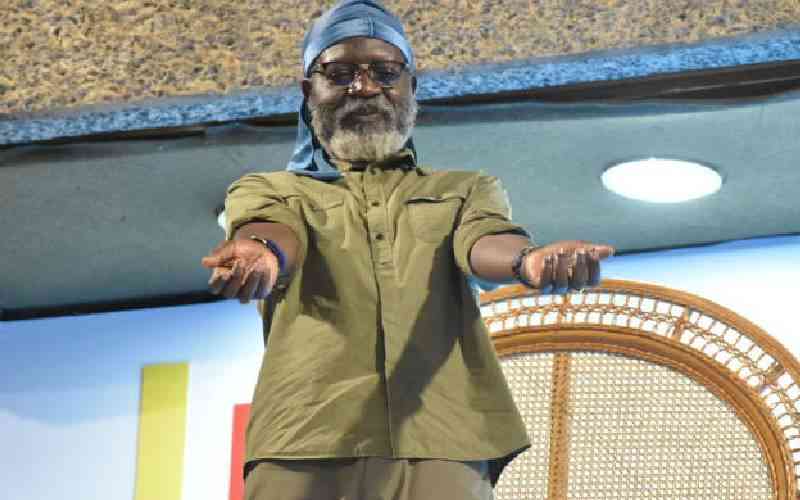 I have a theory. Prof George Wajackoyah's candidacy was Dr William Ruto's political project gone wrong. Before I tell you why, let us talk about the Roots Party manifesto launch.
In two pages and ten points, Prof Wajackoyah presented his manifesto in a reggae bonanza last Thursday, proving to be the most verbally colourful, jaw-dropping presidential candidate since Mwalimu Mohammed Abduda Dida. The professor presented a socio-economic menu of interesting intentions, which on a normal day would be dismissed as ridiculous, even bordering on the insane.
As fate or scheme would have it, Ruto was launching the Kenya Kwanza coalition party manifesto that same evening, providing an opportunity for immediate contrast between the two candidates. TV screens were split between the suited-up DP on one side, and the bearded radical Wajackoyah on the other. Following the launch, Wajackoyah and his outlandish manifesto were highly discussed, either being laughed off as comic relief or embraced as an alternative voice.
So why would I think Wajackoyah, the man who stole Kenya Kwanza's thunder, is Ruto's project? Here are three indicators.
The first indicator is original, the entry and nature of Wajackoyah's presidential campaign seemed too convenient for Ruto's candidature. The Prof's flagship idea is premised on marijuana, which is illegal and whose use is considered immoral and deviant. This is in contrast to Ruto's bible-based campaign designed to project pious superiority.
Ruto's expectation was that Wajackoya's 'sinful campaign' would work to project his own saintliness amid a pool of candidates 'lacking in religious virtue'. But what ended up happening is that instead of providing Ruto's campaign cause for righteous indignation, Wajackoya captured the imagination of a significant portion of the youthful populace.
This reality has been a lamentation of Ruto-aligned politicians since Wajackoya's sudden surge in popularity. For UDA to make this confession publically is an indication of the extent to which the cannabis paradigm has cannibalised the yellow youth votes.
On the tribal politics front, Ruto may have expected Wajackoyah's Luhya votes to partly eat into Raila's long-time stronghold. Interestingly, Wajackoyah's campaign took on a life of its own, preaching Raila to the Luhya bloc while gathering organic followers among young urbanites. The person sent to nibble votes ended up gobbling some himself and giving others away.
The second indicator is also from a comparative perspective. In having a candidate presenting outlandish proposals, the stage is set for Ruto's own manifesto no matter how grandiose. However, an interesting thing happened. The conversation around Wajackoyah's manifesto has not been about the achievability of his intentions. If anything, he has pushed the boundaries of political promises, begging the question: Is it about what the political promises are, or who the promisor is? Are Wajackoyah's promises appealing to the youth because he has never made promises before, and therefore has no history of breaking them?
The third indicator is that to the discerning eye, Wajackoyah's recent behavioural campaign patterns demonstrate defiance, not political competition. The Prof is aggressively endorsing Raila Odinga, in a manner that is blatantly confrontational to Ruto.
Wajackoyah at the start of the campaign was an equal opportunity attacker of the other candidates, but midstream, he has been particularly disparaging of Ruto. This suggests either a fallout or a breakdown of a previous political arrangement. Wajackoyah seems on a constant mission to prove a point, culminating with releasing his cannabis manifesto on what was supposed to be Ruto's night.
The writer is a political analyst and PhD student. @daisymaina7