Homa Bay KNUT officials, Sossion in fight over delegates ahead of polls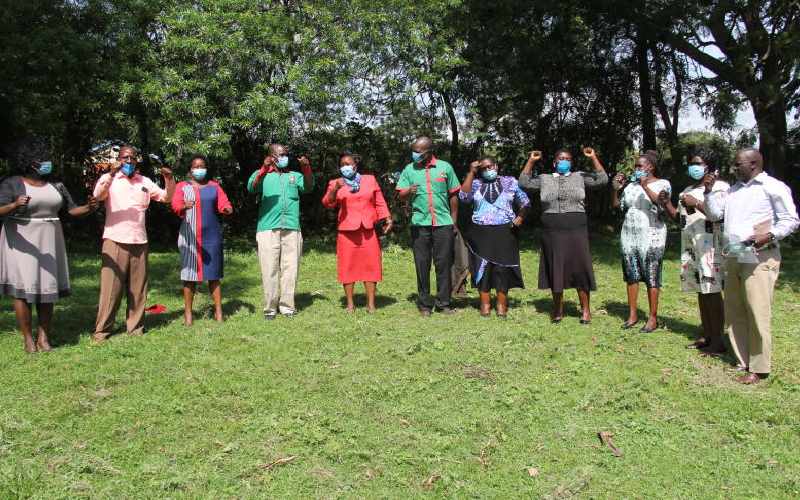 Homa Bay KNUT officials have claimed Secretary General Wilson Sossion is interfering with the delegates' numbers from the county ahead of elections of national office bearers.
The KNUT officials on May 19 accused Sossion of reducing the number of special delegates from the county who will take part in the national election.
Speaking at Homa Bay KNUT offices during a meeting presided over by the top union officials led by county's union secretary Patrick Were, branch executive secretaries Cornel Ojuok (Homa Bay branch), Eliud Ombori (Rachuonyo) and Roselyne Olambo (Mbita), the unionists accused Sossion of being unfair to the branch delegates.
In a joint statement read by Were, the teachers argued Sossion reduced the number of special delegates in Homa Bay county from 59 to 44.
"In January, our three branches had 59 special delegates. But the recent list sent to us on May 12 Homa Bay County now has only 44 delegates," Were said.
He said Sossion reduced their number because he had sensed that Homa Bay delegates are against his candidature.
The Secretary attributed the trick to Sossion's intention of frustrating delegates from counties where he does not enjoy support.
"Sossion has realised that he has lost the support of delegates from Homa Bay County. That is why he is reducing the number of our delegates," said Were.
He urged Sossion to rescind the decision.
"Where has he taken our 15 special delegates? We want our delegates back before the election," Were said.
Ombori and Hilda Otieno, both members of the union National Executive Council, argued that Sossion should not defend his seat in the imminent election because he had been de-registered from the list of teachers in Kenya.
"The Teachers Service Commission has de-registered Sossion from the list of teachers. This means he is a stranger in the teaching profession and should not contest any seat in the union," said Ombori.
The officials agreed to support a lineup headed by Collins Oyuu as the Secretary-General aspirant, Kennedy Nyamwanda (Assistant National Treasurer) and Edward Kwach (representative of Persons with disabilities).
The election will see the union officials elect a new secretary-general alongside other officials at the national office.