The goodies Uhuru has in his bag from the DR Congo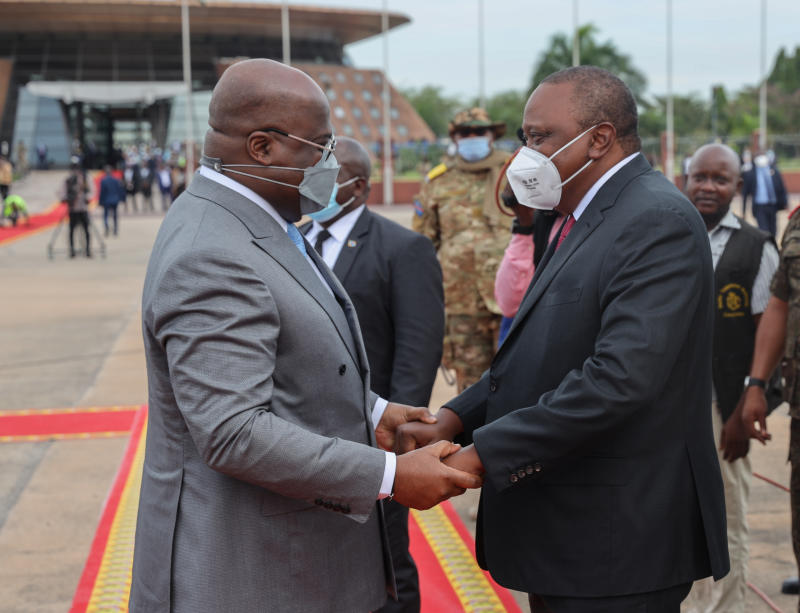 James Mwangi, the CEO of Equity Group, said in a recent interview that it had taken them 38 years to create the first Sh1 trillion.
"I want to bet, it will take Equity less than five years to create the next trillion," said Dr Mwangi.
Mwangi's sentiments were inspired by Equity's entrenched position in the Democratic Republic of Congo (DRC) after the lender increased its market share in the country by acquiring Banque Commerciale du Congo (BCDC).
This saw the lender's balance sheet cross the Sh1 trillion mark, the first company in the region to achieve this milestone.
Yesterday, President Uhuru Kenyatta unveiled the new brand, EquityBCDC, a subsidiary of Equity Group Holdings Plc in the DRC, catapulting Equity into the second largest Bank in DRC in a country that is rich in minerals and vast arable lands.
With a country bearing such gigantic economic potential, Mwangi reckons this will be reflected in the Equity's balance sheet, as the lender gives out loans to various businesses in the region spanning such sectors as mining, electricityand construction.
"We hope the steps Equity and others have taken in becoming regional actors will inspire the private sector to venture out," said Mwangi. Kenyan businesses have been quick to exploit the DRC market. The incursion of the mineral-rich DRC is being spearheaded by the financial sector, with Kenya's banking battling out for the trophy of the Pan-African bank with other lenders on the continent.
Equity Group first entered the Congolese market by acquiring Procredit Bank in 2015 and has over the years consolidated its position to become the second largest bank in DR Congo with a nationwide footprint of 74 branches.
KCB's entry into DRC is being delayed by regulatory approval despite already agreeing on terms to acquire the lenders.
Equity joins Jubilee Holdings and other Kenyan firms in DRC. Last year, Mayfair Insurance Company was granted a permit to enter the Central African nation.
Official data shows that by end of 2017, the stock of Kenyan investments in DRC was valued at Sh6.7 billion.
DRC has generally turned into a battle ground for various countries, African and non-African, and according to Elijah Munyi, an associate lecturer of International Relations at the United States International University, Kenya does not want to be left behind.
President Uhuru Kenyatta, who is on a three-day visit in DRC, on Wednesday signed four framework cooperation agreements covering several economic sectors, security and defence as well as maritime transport.
"Indeed the relations between our two countries have been cordial over many decades and the relationship has continued to broaden and deepen, especially since you ascended to power, in areas of trade, security as well as our multilateral engagements," Uhuru told his host, President Felix Tshisekedi. KQ and Congo Airways also entered a partnership for aircraft maintenance, personnel training and sharing of excess capacity after Uhuru and Tshisekedi approved the deal.
The Jubilee government has been championing for DRC to join the EAC, as this will enable its products to access the 89.5-million market duty free. Unlike other members of the EAC, which is closer to, or even share borders with DRC, Kenya does not have such an advantage.
Dr Munyi says when Kenya put its foreign policy in writing, projection of business was one of the goals. He said the opportunity in DRC could extend beyond finance to tech, going by the experience Equity has had in Rwanda, where the lender also has a subsidiary.
LONG SHOT
Tanzania has also been trying to court DRC to use the port of Dar es Salaam. Kenya, it seems, is taking the fight to Tanzania, which has some advantage, as it is closer to DRC, says Munyi.
For the unstable political environment, Munyi says there are governance issues everywhere. "I don't think it is a long shot for Equity. It has a lot of potential." He bases his argument on what has happened in Rwanda, Uganda and Tanzania.
The only downside to Kenyan businesses' entry to DRC is the language barrier, which might make it difficult to transfer Kenyan employees to the French-speaking nation when setting up. However, there is a sizable population that speaks Kiswahili in the DRC.
Uhuru has better rapport with President Tshekedi, perhaps based on the role it played on the latter's assumption to power.
Kenya could also benefit in terms of expansion of its market for first-moving goods such as toothpaste and tea.
DRC, the second most populous country in sub-Saharan Africa, is envied for its vast wealth, which includes arable parcels and refined copper (accounting for 48.9 per cent of total exports), cobalt, copper ore, crude petroleum, and raw copper.
In 2019, DRC was the world's biggest producer and exporter of cobalt and cobalt ore (used to make mobile phone), chemicals primarily used lithium-ion batteries, as well as glass, ceramics, inks, paints and varnishes.
It is this wealth that Kenyan businesses are eyeing. Equity already has operations in DR Congo through a subsidiary it established by acquiring 86 per cent stake in Pro Credit Bank, then the seventh largest bank in the country by assets, exceeding $200 million, and a customer base of more than 170,000, between 2015 and 2017.
China, where DRC imports most of its products, has set its eyes on the central African country due to its wealth. DRC has the second largest stock of FDI from China after South Africa, according to official data.
Other than China, DRC also imports from UAE, Saudi Arabia, South Korea and Italy, the World Bank data shows.
In Africa, its major export markets are Zambia, Namibia, Egypt, South Africa and Morocco.
Kenya is DRC's sixth biggest market in Africa, accounting for 0.23 per cent of market share – or $18.4 million (Sh2 billion).
By end of 2019, Kenya's exports to DRC were valued at $7.8 billion, according to official data.
DRC's economic growth in the pre-Covid period was at around 4.4 per cent, but this has slowed down to 0.8 per cent due to the adverse effects of the pandemic.
Growth during the Covid-19 period has been driven by the extractives sector, with increased demand coming from China.