Prosecutors should stop using judiciary as doormats, Ngatia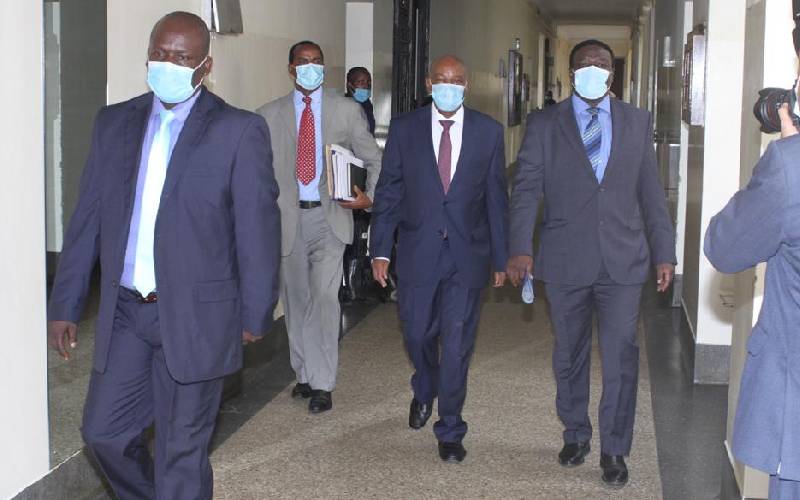 Senior Counsel Fredrick Ngatia has taken a jab at prosecutors for what he termed as laxity in concluding cases.
Ngatia, who is seeking the position of Chief Justice, said it is sad that prosecutors have turned the judiciary into doormats where they conduct their PR activities.
"Allow me to say without fear of contradiction that prosecution strategy is always to outlive everyone. Their strategy is never to conclude these cases but I tell them, they can never outlive me," he said.
Ngatia while appearing before the Judicial Service Commission which is conducting interviews for the next CJ said if he became the next president of the Supreme Court, he would ensure that cases are not about PR but real issues.
He said this unfair strategy is what contributes to a backlog of cases in the institution.
"If you bring in court 50 accused persons on 120 charges and each of them has one lawyer you can never conclude this matter in their lifetime. Instead, we can break down the charges to save the court's time," he said.
He said although it is not about the judiciary to decide on how prosecutors should do their work, a time has come where they must be told the truth to stop using the same judiciary as doormats.
Ngatia said he regrets that all accused persons in the Goldenberg scandal died without judgment being rendered.
He said what breaks his heart is that the accused persons died with the tag on them yet there was no criminal probability on them.
While justifying why he is best suited to take over from Maraga, Ngatia said coming in as an outsider will be a plus for him to spearhead reforms.
"Judiciary is fairly independent but needs to do more and show the independence not in decisions they make but as an institution," he said.
"The best antiseptic is sunshine, and therefore, I will open the affairs of the Judiciary to the public," he said.
Ngatia said were he an insider, he would have clashed or quarreled with some of the Judiciary staff which would have made it impossible to transition.