Murgor's past returns to haunt bid to become Chief Justice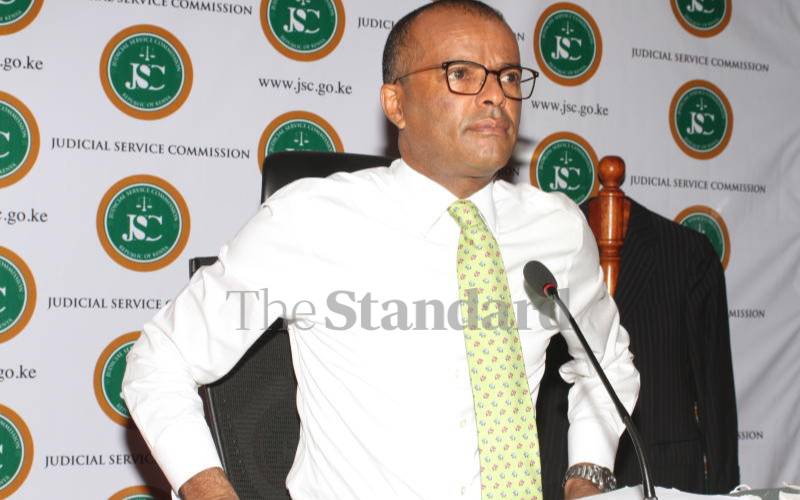 Philip Murgor's past conduct and his tenure as a state prosecutor featured prominently yesterday when he presented himself for scrutiny in his bid to become Kenya's next Chief Justice.
Senior Counsel Murgor was at pains to explain to the Judicial Service Commission (JSC) why he took sides in an inheritance dispute involving his extended family, how he handled the murder case against businessman Kamlesh Pattni and why he is always temperamental and combative when handling cases.
At one point, Murgor said he did not have to get the job of CJ, prompting the panel's chair Prof Olive Mugenda to seek clarification on what motivated him to apply for the job.
"There are those who need the job because of the salary and the trappings of power that go with it. Then there are those who sit in their office looking for opportunity to serve the country.
"I am the latter because I need the job to serve the people," said Murgor.
JSC commissioner David Majanja set the ball rolling when he put Murgor to task over his past actions, stating that a man is judged by his history and that the commission will judge him accordingly.
But Murgor told the JSC panel that his past cannot determine his future if he becomes the CJ since he simply made some decisions by virtue of the offices he was holding at the time.
On being a "blue eyed boy", Murgor countered that he was sacked as Director of Public Prosecutions in 2005 for refusing to be compromised by corrupt senior government figures.
If appointed CJ, Murgor said he will lead the Judiciary from the front, ensuring that judicial officers are not demoralised.
He said he will visit colleagues at various court stations not to take pictures but to listen to their problems and offer solutions.
Murgor added that it is time the Judiciary got a CJ from outside, to bring in new ideas of transformation since it is presently at a standstill.
"An insider may not see the glass in front of him but an outsider will come with a clear mind and listen to everyone.
"At this point in time, it is necessary to have an outsider to be the CJ to get rid of cartels and brokers who are holding the Judiciary hostage," said Murgor.
On anti-graft war, Murgor said the Judiciary should not be labelled the weakest link, adding there is need for an audit to establish which agency is sleeping on the job.
He said his priority would be to sustain the Judiciary transformation agenda started by former CJ Dr Willy Mutunga and seek dialogue with both the Executive and the Legislature to resolve disputes.
"I will not be speaking from the steps of the Supreme Court like the immediate retired CJ David Maraga.
"We must speak with one voice even when we disagree since an institution needs a leader not a maverick," he said.
He, however, declined to answer questions regarding how he will rule on specific disputes, saying he would be preempting positions he is likely to take in the event they end up at the Supreme Court.