We're coming for you, Matiang'i tells Kapedo police boss killers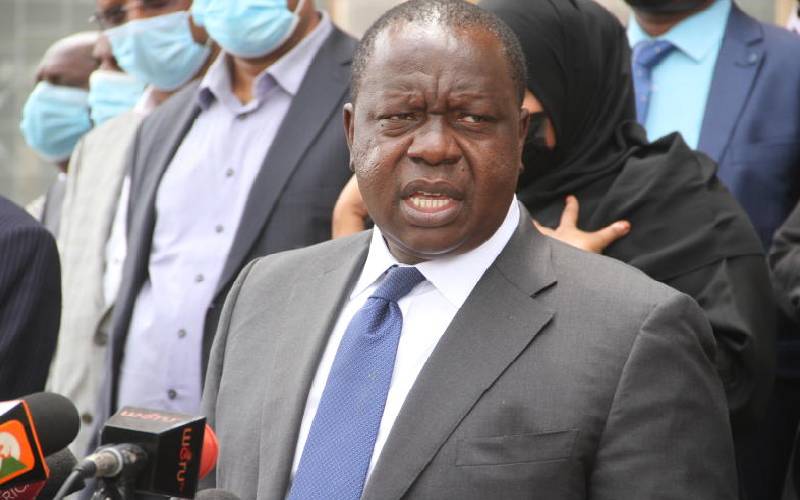 The government has promised an intense police operation in Kapedo whose "story will be told for generations to come" in an attempts to find killers of a senior officer on Saturday.
Interior Cabinet Secretary Fred Matiang'i has asked the people responsible for the murder which occurred in Kapedo in Turkana County to surrender before police go for them.
While speaking with elected leaders from North Eastern Kenya on Tuesday, Matiang'i said the government had had enough of the killing of police officers in Kapedo under the guise of banditry.
"It is a clear case of murder. There was no conflict. It was a premeditated ambush that was targeting our deputy director of operations at the General Service Unit. We must stop pretending and put things candidly," Matiang'i said.
Three other officers were shot and wounded in the attack that happened on Saturday.
"That part of the country has been very costly to our security officers. We have lost NGAO officers, security officers and innocent wananchi," the CS said as he announced that police would intensify their operation in the area.
He said that some of those that were people of interest in the investigations were elected leaders who funded banditry.
"There is a culture in that part of the country that seems to protect negative and criminal armament that disguises as cattle rustling but it is funded. We are in hot pursuit of certain people, including leaders, we will make sure those who are involved in that are facilitated to meet the law," said the tough-talking CS.
"By the time we are done with what we are doing there it will be a story to be told in generations to come when there will be no violence in that place," he said.
(GSU) Operation Commander Emadau Tebakol adds to a growing list that also includes 21 GSU officers who have been killed in the volatile area in Turkana.
Matiang'i yesterday said enough is enough, committing to bringing an end to the lawlessness in Kapedo.
"We are asking those people who know the people that murdered the police officer to surrender, if they do not surrender them we will still go and look for them," he said.?