Homa Bay man with rare condition pleads for help to get treatment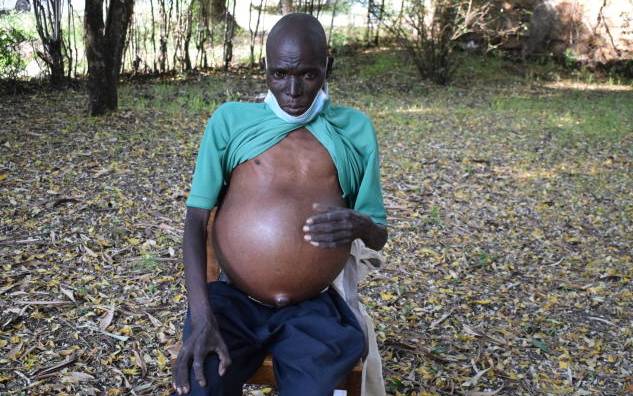 What started as a simple stomachache in February 2018 has turned into a nightmare for Harison Olala.
The stomachache was later diagnosed as ascites - an abnormal buildup of fluid in the stomach, usually related to liver disease - and since then, life for Olala, 40, a resident of Nyaoga village, Karachuonyo Constituency in Homa Bay county has been a nightmare.
"I woke up one morning with a serious bout of constipation. I thought maybe I had eaten something bad," said Olala.
In April 2019, Olala experienced serious discomfort again and his abdomen continued swelling while his limbs grew thinner.
He visited Homa Bay County Referral but was advised to go to Kisumu for a CT-scan.
"I didn't have the money but some friends and relatives helped me pay for it," he said.
Early last month, he visited St Camillus Hospital in Migori County where he was diagnosed with ascites and advised to seek medical care at Kenyatta National Hospital or Moi Teaching and Referral Hospital in Eldoret.
According to Dr Kevin Osuri of Rangwe Sub-county hospital, ascites has many causes including liver cirrhosis, tuberculosis and cancer.
The Nyanza regional KMPDU chairman said the only remedy for the condition is treating the cause. "Ascites is like a sign. The only way of doing away with it is to treat the cause," Dr Osuri said.
But Olala is stranded at home due to lack of money.
"I am appealing to well-wishers to assist me with funds to seek treatment in the recommended hospitals," Olala said.
He said the condition had forced him to rely on his 80-year-old mother, Elseba Olala, to take care of him. [James Omoro]
He said does not sleep due to discomfort in his body.
"I feel nausea, tiredness, breathlessness, constipation, diarrhoea and urinary urgency," Olala added.
His tribulations have made some people refer to him as an old man.
"People who did not know me before the disease call me an old man yet I am only 40 years old but it is because of this disease," he said.
He said the condition had forced him to rely on his 80 year old mother, Elseba Olala to take care of him.