Empty tomb, empty benches as Christians celebrate Easter amid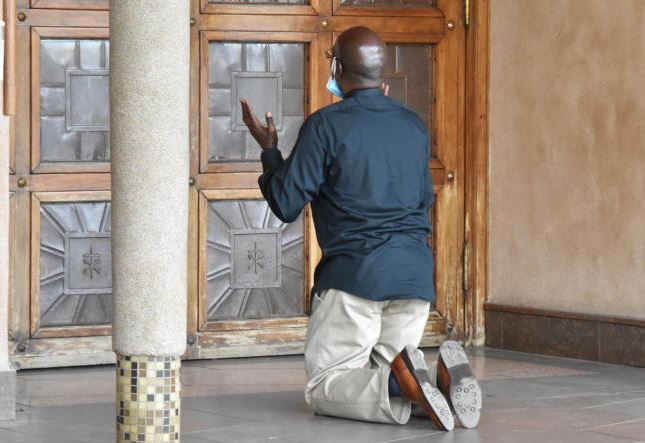 Just as Jesus' tomb was empty on the third day after His crucifixion, churches across the country were yesterday empty as Easter Sunday was celebrated.
Normally, such Sundays would have attracted thousands of worshippers to celebrate the resurrection of Jesus Christ, their Lord and Saviour. But these are no ordinary times.
Yesterday, only a handful of worshippers showed up in churches across the country, majority being officials and choir members. This is in keeping with the government's ban on social gatherings to combat spread of coronavirus.
A majority of Christians had to watch live television services.
The Sunday service at the Holy Family Basilica was aired live as Head of Catholic Church in Kenya John Cardinal Njue acknowledged how the coronavirus pandemic had disrupted the church's functions.
He described the pandemic as a sad event.
"I would not imagine celebrating (this day) in an empty basilica," said Cardinal Njue.
He said he was praying for Catholic faithful and that he was optimistic the disruption of normal Christian life would end soon.
"May we take this opportunity, as distant as we may be with one another, to still be united, and in a special way, pray for our country during this difficult moment. We should ask the Lord to help our professionals to do what they can do so that at the end we may have medicine that is instrumental to clear this disease once and for all," he said.
The service at Holy Family Basilica was officiated by Most Reverend Anthony Muheria of Nyeri. Rev Muheria said the resurrection of Christ is still as important even during these hard times that Christians cannot gather together to celebrate. "Jesus Christ has resurrected in the most powerful way so that we can also defeat evil, sin, death and all the bad things that we witness like this disease troubling us today," said Muheria.
Nobody to recite chorus
At the All Saints Cathedral, Nairobi, where the service was also aired on the church's YouTube channel, the choir area had just seven members. The church had nobody to recite the usual chorused response to scripture readings of Halleluhya, na tumisfu Kristo Bwana Yesu.
Even when assistant provost Evans Omolo stood to greet the faithful present with the usual Bwana Asifiwe salutations before he started preaching, only a handful of voices could be heard responding.
Only his robe set him apart as the preacher since his white collar was covered by a mask hanging from his neck in line with the government's directive that people in public spaces must wear masks.
Omolo delivered a sermon on how God can use one's messy situation for good, a lesson drawn from the crucifixion and resurrection of Christ.
"Friends, in life, there are people who completely miss out on God's divine plan for their lives. There are people who see you only in your present circumstances and believe that that is the definitive you now and into the future," he said.
He said when the divine plan of God on Jesus was revealed at His tomb, the women who had come to embalm his body with spices were left stranded.
Unlike the tradition of being given the holy communion by the pastor in church, worshippers at Christ is the Answer Ministries (Citam) had to do it by themselves as they followed the instructions of Bishop David Oginde - like in YouTube tutorials - which were posted and shared on their social media pages.
The holy communion is a tradition at Citam church shared every first Sunday of the month, but Bishop Oginde said this Easter Sunday was special.
"Go get for yourself a piece of bread of whatever kind, get some drink or juice which we will celebrate together," he said.
In Nyahururu, Catholic Bishop Joseph Mbatia led two priests and two nuns in marking Easter Sunday at the Nyahururu Catholic Secretariat.
Unlike in the past where thousands of Christians thronged the church, the mass was celebrated by the five and took only one hour.
Remain calm
In his message, Bishop Mbatia asked Kenyans to remain calm and be mindful of others while at the same time obeying government's directives to ensure the war against the Covid-19 was won.
"We have asked our fellow Christians to stay at home to avoid contracting the disease. The few of us who have been left at the secretariat held the mass as usual," he said.
He called on Kenyans to pray for the country so that those already sick could be healed.
At the Catholic Diocese of Eldoret's Sacred Heart of Jesus Cathedral, Bishop Dominic Kimengich, who was installed in January, was celebrating his first Easter mass in the diocese covering Uasin Gishu, Elgeyo Marakwet and Nandi counties.
Bishop Kimengich preached to 10 priests and nuns in the cathedral.
The service was aired live on church-owned Upendo FM.
"We hope that this (Covid-19) situation will change so that things normalise. I wish all people with good intentions all the best," Kimengich said after the mass.
Bishop Kimengich described Easter as the Church's holiest week. He said he had never imagined celebrating the crucifixion, death and resurrection of Jesus in an empty church building.
At the AIC Fellowship in Eldoret, 183 worshippers out of more than 4,000 who attend church service on a normal Sunday were following the Easter sermon by noon.
Reverend Luka Maiyo said the world was being punished by God for sins committed by human beings.
[Report by Graham Kajilwa, James Munyeki and Stephen Rutto]