Baringo Senator, Governor Rasanga call for BBI support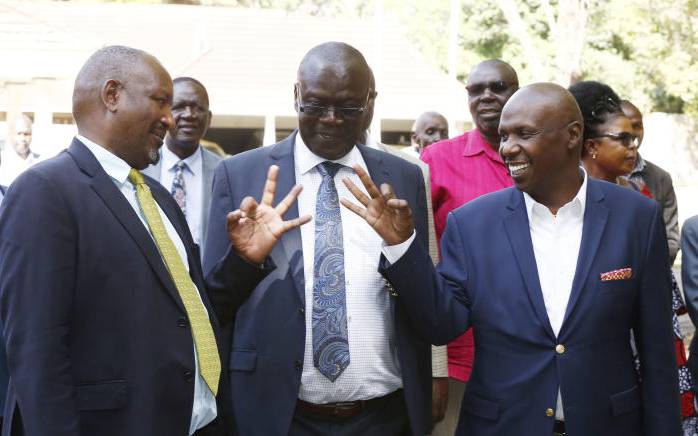 Baringo Senator Gideon Moi and Siaya Governor Cornel Rasanga have called on leaders to support the Building Bridges Initiative (BBI).
Speaking at Kabarak yesterday where he held talks with delegates from Siaya led by Mr Rasanga, Gideon said as leaders, they should be selfless and always focus on assisting the people.
Gideon lauded President Uhuru Kenyatta and ODM leader Raila Odinga for coming together and initiating the handshake, the outcome of which, he noted, was unity and more importantly, ensuring there was inclusivity.
The Kanu national chairman said Kenyans must feel they have a right to happiness and should not be denied the chance by those in power.
Rift Valley, he said, belongs to all communities living there and the people have issues which need to be addressed through the BBI process.
"Rift Valley belongs to all Kenyans; our people have issues which need to be addressed and this must happen. Let's help our people as this is the only opportunity," Gideon said.
Rasanga said the visit to Kabarak was as a result of the cordial relationship his family had with that of the late president Daniel arap Moi.
Gideon, who received the delegation comprising MCAs and county ministers, said the love showed to them was immense and had kept the family moving.
Rasanga said they are resolute on BBI and want to see it achieved.
"We are resolute on BBI and we want to see the baby born; we don't want a stillbirth," he said.
The governor said Mzee Moi showed them the way and as leaders, they did not want to take a different direction. He noted a delegation from Siaya will attend the BBI rally in Nakuru on March 21.
The county chief said they were waiting for a signal and would be fully behind Gideon come that time.
"We will unite and assist each other. We shall be friends together especially in this journey," he added.
Kanu Secretary General Nick Salat, who attended the meeting, said they were in support of the BBI initiative.
Mr Salat said the planned BBI rally in Nakuru would go on as scheduled. He hit out at leaders trying to cause division, saying they can hold their own rally and give their memorandum to whoever they deem fit.
"You don't have to worry, just like it is in a market, with BBI we will have so many mad men and women who will try to move in the opposite direction. Some people have closed their eyes as we move forward," Salat said.
He said BBI was meant to address the problem known to all and the country will not want to mourn another Baby Pendo, referring to a child killed by police during the 2017 post-election violence in Kisumu.
The planned meeting in Nakuru, he said, will take place whether some people like it or not, noting Rift Valley will hand over its memorandum.
Selfish interests
Salat said Rift Valley belongs to the people and not leaders who are pursuing their selfish interest.
The delegates from Siaya called on Gideon to work closely with Uhuru and Raila, saying their fathers worked together to ensure Kenya attained independence.
Memories of the role Moi played in uniting the people and in education was also recognised.
Siaya county executive George Rubik said Moi was a leader focused on rural development.
Nominated MCA Tabu Osewe said Moi was a wonderful leader and father who united Kenya and cared for women and children.
"Mzee united Kenya, he cared for women and children and he did a lot for them. We will miss him," Osewe said.
Download the BBI Judgement by all seven Judges - Civil Appeal No. E291 of 2021