Years of plunder turn rich forest into desert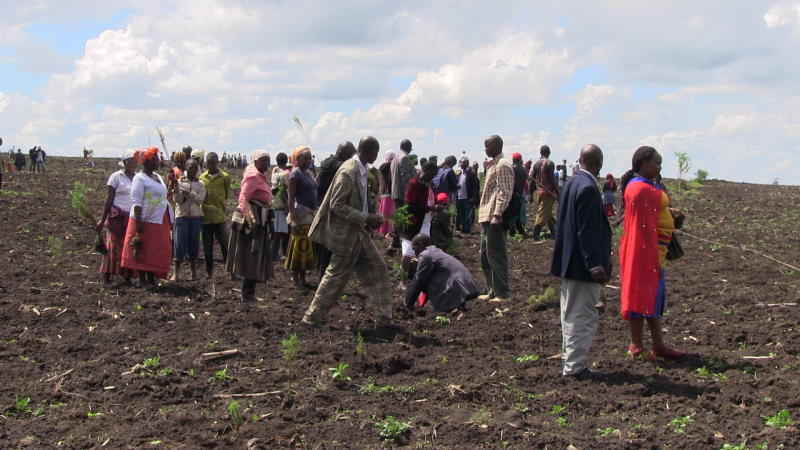 In books, Chepalungu Forest in Bomet County sits on 4,871 hectares. However, things are different on the ground. The land is bare, with only a tree here, and a shrub there. But this has not always been the case.
Joseph Towett, Chepalungu Apex Community Forest Association chairman said that up to 2007 the forest had a thick canopy of indigenous trees.
"As the 2017 post-election violence rocked the country, an army of timber and charcoal merchants descended on the forest and fell down all the trees," he said.
The group operated in absolute impunity by destroying the Kenya Forest Service (KFS) guard camp that was located in the forest, damaging the forest at an apocalyptic scale. "With no one to stop them, they rushed to cut down all the gigantic trees. After the last tree hit the ground, they went for the smaller trees. Trees which could not be turned into timber went down for charcoal," said Mr Towett.
Animals whose home was the forest were hunted down, including antelopes, baboons, hyenas, rabbits, squirrels and foxes.
The destruction of the forest has come back to haunt the villagers.
"Streams such as Kamundugi-Chemaitamy and Atebwa have since dried up. General weather patterns have changed, and rains that used to come around April have disappeared," said Towett.
Womenfolk too feel the brunt of the forest's destruction.
Restore forest
"We are forced to trek long distances to fetch water and firewood. We are really suffering," said Regina Siele, a local.
Bomet County Commissioner Geoffrey Omoding said destruction of Chepalungu Forest has affected the Chebarara Irrigation Scheme.
But now residents of Chepalungu and surrounding locations of Mokimeny, Kongasis, Siongiroi and Ndanai have vowed to restore the forest back to its former glory.
To start the afforestation programme, World Wide Fund for Nature (WWF) has provided 25,000 indigenous seedlings to be planted on 100 hectares of the forest.
"The trees will cover 40 hectares of forest land during the short rainy season. We will continue the programme next year during the long rainy season," said WWF Programmes Coordinator Kevin Gichangi.
"The villagers will have an opportunity to conduct farming activities in the plots for six years before the trees canopy finally closes up," said Mr Gichangi.
Bomet Governor Hillary Barchok said his administration had planted five million trees in a continuous exercise to increase the county's forest cover from 15 per cent to 17 per cent by the year 2022.
"My administration is working with the KFS, United States Forest Service and WWF to restore Chepalungu forest, which is part of the Mau forest complex," he said.
He added, "I will award Sh200,000 to 10 villagers who will be determined to take good care of all the trees they have planted."