KNCCI President elected regional trade boss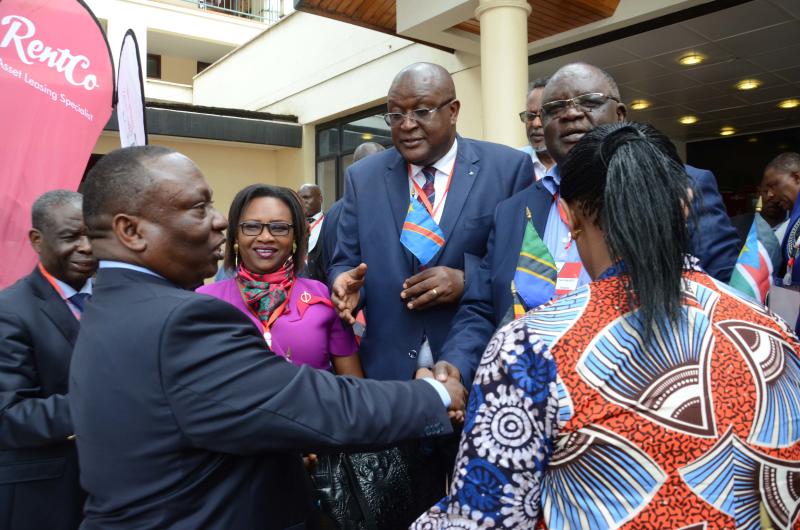 Kenya National Chamber of Commerce President, Richard Ngatia is the new chairman of General Assembly of the Great Lakes Region Private Sector Forum.
Ngatia was named to the position when he hosted members of the forum in Nairobi. The meeting, which opened today, is a precursor to the Great Lakes Investment and Trade Conference to be held in Kigali Rwanda in November.
A Kenya was selected to head the forum that brings together members of the private sectors from the member countries of the region mainly due to the country's strategic position, which attracts investors. The country, which is the biggest economy in East Africa also a very strong private sector compared to other states in the Great Lakes region.
Other countries in the region include, Uganda, Democratic Republic of Congo, Rwanda, Burundi, Tanzania, Malawi, both north and Southern Sudan.
Previously, the position of the General Assembly of the Great Lakes Region Private Sector Forum was held by chairman of Congolese National Business Association Laurent Yogo who handed over the position to Mr. Ngatia.
"We realized that Kenya is strategically placed and the country also has a big number of corporate companies that can push the association," Olive Kigongo, the President of Uganda Chamber of Commerce and Industry said in an interview.
She said given, Ngatia's private sector background, they expect him to mobilise other corporates, which will give the forum a new vision and a new work plan.
In his speech after he was named the forum's chair, the KNCCI boss expressed the need to promote trade by first enhancing regional integration.
To come with a program of partnering with businesses across the region, he said they'll use institutions like universities since they already have established structures.
"We must promote economic transformation and industrialization for the people in the region," he told the forum adding that he'll also pay greater attention to the regions connectivity. The connectivity includes air and water transport, e-commerce, telecommunication and financial integration.
This he explained would make it easier and cheaper for business in the region.
Martin Kivi who represented the United Nations at the forum said they are supporting it since it promising to revive the private sector in the region, which in turn is expected to provide employment for the youths.
And as Aniefiok Johnson who's a special envoy for the United Nation Secretary-General observed without a strong private sector the economy of the region cannot grow.
"I feel it is important for individual private sector to come together to accelerate the process of development for the region," he said.
Others at the meeting included Paul Koyi, the President of Tanzania Chamber of Commerce, Industry and Agriculture and Ambassador Zachary Muburi Muita who's the executive secretary for International Conference for the Great Lakes Region.