How embattled CS Rotich tried to tame white elephant projects after horse had bolted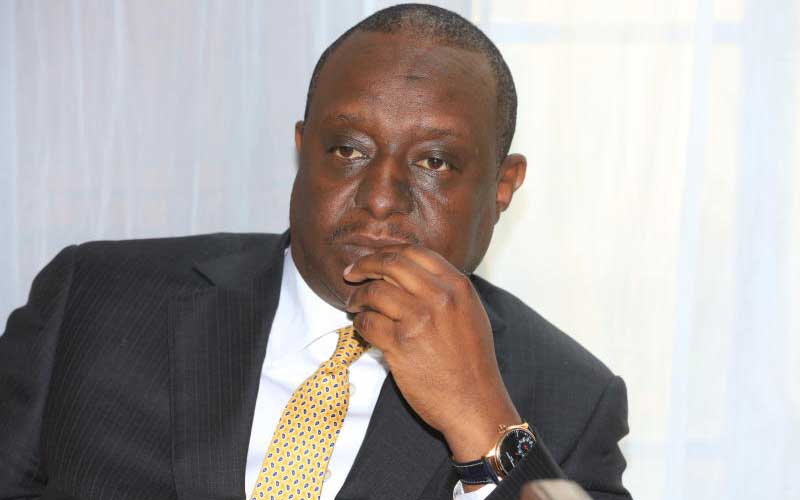 Suspended National Treasury Cabinet Secretary Henry Rotich (pictured) must have seen his fate coming. Having been in charge when white elephant projects mushroomed all over the country, he made frantic attempts to tame them before they descended further into the abyss.
His last-ditch efforts to save himself -- and by extension his office -- saw him institute policies and issue directives aimed at stemming further build-up of wasteful projects such as Arror and Kimwarer dams.
And as he battles the law, having been accused of, among other things, overseeing the inflation of the cost of building the two dams in his home county of Elgeyo Marakwet, history awaits.
As the man in charge of the country's purse for six years, history will either condemn or vindicate the suspended CS on, not just the two controversial dams, but a myriad of other projects that heaped upon generations of Kenyans an additional debt burden of Sh3.7 trillion in under six years.
Rotich, his former Principal Secretary Kamau Thugge and other state officers have been charged with conspiracy to defraud, willful failure to comply with applicable procedures, abuse of office, committing an offence of financial misconduct, fraudulent acquisition of public property, among other charges.
The contract for the construction of the two dams was awarded to CMC di Ravena, a broke Italian company, on February 1, 2016. Not only did Rotich approve the award of the contract to build the two dams to a bankrupt firm, investigators say the company was also paid even before a feasibility study was done or land compensation completed.
Yet, new Public Investment Management (PIM) guidelines, which Treasury unveiled in August 2018, require that before a project is funded, a feasibility study, land acquisition and compensation, stakeholder management and other development partners be completed.
Moreover, state agencies should ensure detailed designs were completed and approved before a project could be approved for funding. The cost of the dams was inflated by close to 40 per cent from the initial Sh46 billion to Sh63 billion, according to investigators. Under the PIM regulations, an inflation of more than 25 per cent calls for re-appraisal of the project before it can be approved.
Borrowed from China
Perhaps the most prominent case of cost inflation featured in the Standard Gauge Railway (SGR), the country's largest post-independence project. The Chinese-built railway cost taxpayers Sh400 billion borrowed from the Government of China.
Not only have some experts, including the World Bank, questioned the viability of the project, they have also talked of how Kenyans would pay dearly for what is basically a "third-rate railway". Kenya, said some experts, only needed Sh16 billion -- not the Sh327 billion that was used -- to upgrade the metre gauge from Mombasa to Nairobi. Some analysts have blatantly labelled it a white elephant.
Yet, up to and including in his last Budget Speech last month, Rotich maintained that not even a cent of the Sh3.7 trillion borrowed under his watch had been lost.
Moreover, all the borrowed cash had been used to "finance development expenditures, including in such areas as ports, railway, roads, energy and water," said Rotich in his June Budget Statement to the National Assembly.
But his conviction -- and that of President Uhuru Kenyatta -- on the prudential use of all resources by ministries, departments and agencies had begun to waver by the time he vacated the National Treasury. Rotich's penchant for debt would see him cross paths with his former employer, the International Monetary Fund, which yanked away an insurance facility aimed at providing buffer against any external shocks.
However, to re-establish relations with the Washington-based institution, Rotich revamped the Public Debt Management Office, which he placed under a new director general who would be responsible for public debt management and operations.
Treasury would also vet "all infrastructure projects before such projects are committed in the Budget, in order to establish their value for money, affordability and economic return for the benefit of the current and future generations in line with the Constitution of Kenya," said Rotich in his Budget Speech.
After years of denial, Uhuru's money man was slowly but surely coming to the realisation that some of the projects the Jubilee administration had pompously sunk billions of borrowed cash into never really got to leave the paper on which they were beautifully illustrated.
For 12 months to June 2019, Rotich had been desperately trying to do an extreme make-over of his battered legacy by attempting to bust as many white elephant projects as he could.
Big four agenda
Just as the Financial Year 2018/19 began, the President told all accounting officers to freeze all new development projects until ongoing ones were completed. Only those projects which were aligned to his Big Four agenda would be started afresh. But "even if new projects are aligned to the Big Four, they cannot be started without express authority from the CS or PS of the National Treasury," said Uhuru.
It was a crusade that Rotich carried out with zeal. For years, projects such as Galana Kulalu irrigation in Tana River County had been imbibing taxpayers' cash but yielding nothing in return.
Others such as the Sh56 billion Greenfield Terminal at the Jomo Kenyatta International Airport (JKIA) were killed when it became apparent they could not be executed. There are fears that just as Arror and Kimwarer dams and the Anglo-leasing projects, the Government might be forced to pay for the JKIA project. Galana Kulalu, a Sh7 billion food security project, also finds itself in the same muddied waters as Isreali contractor Green Arava jostle with National Irrigation Board (NIB).
Agencies such as NIB would have to out the Galana Kulalu mess before it moves on to others, according to the President's directive.
Procurement for a number of projects ranging from construction of airstrips, new police stations, new geothermal power plants, schools and dozens of roads would be put on hold as the government tries to reduce the clutter of stalled projects.
An emboldened Rotich, with a free hand to cut extra spending and seal revenue leakages, was in control of Uhuru's latest attempt to deal with corruption and wastage. After a borrowing spree, the PIM guidelines would address the problem of "bloated project portfolio, unpredictable funding, stalled projects, and inflated costs."
It was from the PIM guidelines that Uhuru got the idea of freezing all new projects until on-going ones were completed.
Until these regulations came into place, said Rotich, the country had been operating without a public investment management framework, a situation that might have led to "projects entering the Budget without verification of their quality and cost effectiveness."