Businessman Don Bosco sentenced to five years for money laundering crimes, detained in Tanzania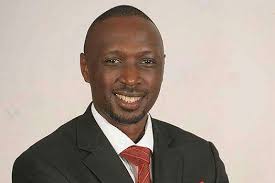 Family and friends of Kenyan Don Bosco Gichana detained in Tanzania for six years have begun raising Sh15 million to secure his release.
This is after an Arusha court sentenced Gichana to a five year term and a TSh300 million (Sh15 million) fine for the crimes of conspiracy and money laundering.
However having been in custody since March 2013, the court ruled that Gichana will walk to his freedom once he pays the amount.
The verdict took place on Tuesday less than a week after Gichana, a politician who vied for the Kitutu Chache parliamentary seat in 2013 emerging second, pleaded guilty to the charges.
On Tuesday, the family was frantically seeking to raise the money to have their son come back home following the long awaited verdict.
"The court have made its decision and as a family we thank God for this eventuality. We are now looking for means to raise the cash so that we can have Don back," his elder brother Dunstan Nyakundi who was in Arusha told the Standard.
Kitutu Chache South MP Richard Onyonka welcomed the move saying as area MP, he will mobilize friends to raise the required funds to ensure he is home. "I want to thank all the many people who did one thing or the other to ensure Don Bosco secured his freedom. We have been awaiting for this for far too long and we are happy he is finally coming home," Onyonka said.
The youthful politician, was accused of electronically filing false tax returns to the US State Department of Treasury Internal revenue service between years 2008 and 2011.
While filing the returns, the court heard that Gichana used names of Syron Hess, Dale Houston, and Herbert Breneman in false pretence.
Attempts in the past to have him released or case concluded have failed even at the highest level after Kenyan leaders including Deputy President William Ruto, Raila Odinga and Kalonzo Musyoka failed to sway Tanzanian authorities.
In 2016, Kalonzo led a delegation to Tanzania to negotiate for his release and even appeared on record in court as a lawyer, raising hopes of determination of the matter but that didn't bear fruit then.
Gichana was arrested shortly after the 2013 general elections when he travelled to Arusha to visit his lawyer-friend Median Boastice Mwale who was in jail and as fate could have it, the two were jointly charged with conspiracy and money laundering.
The case had be delayed severally and at one time prompting the Tanganyika Law Society to raise complaints over the manner in which prosecutors and investigators were handling it.
The flashy politician, in his heyday hobnobbed with the powerful and might in the country's political scenery and is best remembered for importing a Hummer car, which he donated to Raila prior to the 2007 elections.
And ally of Raila, and close friend of the late Fidel Castro Odinga, Gichana or simply 'Don B' as he was known to his friends was a generous money who splashed cash and entertained his friends in Nairobi and at times moving with his entourage to Mombasa, Malindi had his rural Kisii.
The politician, failed to secure freedom in 2016 to return to the country to bury his mother.
Two schools burnt in inferno
In a span of 24 hours, two schools have been razed down in Makueni over what police say might be arson incidents.