How Slye "peeled back the mask" of TJRC commissioners
COUNTIES
By Nzau Musau | Sep 15th 2018 | 3 min read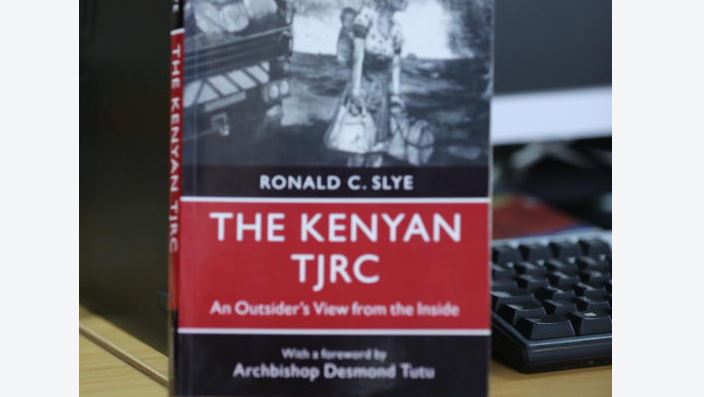 Vivid descriptions, scintillating anecdotes and choice words is the stuff of Prof Ron Slye's revealing book on the star characters in the farce that was the truth and reconciliation process in Kenya.
In The Kenyan TJRC: An Outsiders View from the Inside, a Cambridge University Press publication, Ambassador Bethuel Kiplagat bore the brunt of them.
Described as disorganised and ineffective, Kiplagat, the controversial chair of the Truth, Justice and Reconciliation Commission (TJRC) would often steer the conversation to issues tangential to matters at hand. He was also prone to storytelling and long, discursive lectures.
"In addition to diverting us away from core elements of our mandate, he had a difficult time reining in other commissioners, particularly some of the male commissioners who were prone to interrupt and to go off on their own tangent," writes Slye.
But to his credit, Slye says Kiplagat was perceived as someone who valued national unity over ethnic politics, so much so that his community members were critical of him "because he was not viewed as sufficiently committed to such ethnic politics".
Commissioner Margaret Shava is described as coming "from a well-connected family in the Kikuyu elite and is related to the Kenyatta family."
"While she comes from a privileged and elite background, she had rebelled in her own way, devoting much of her professional life as a lawyer working on refugee policy and advocacy."
Slye says despite Shava's acts of rebellion, she continued to mingle among Kenya's elite as a board member of the major horse racing venue in Nairobi.
Political interests
But it was ex-naval officer Commissioner Ahmed Farah who received the sharpest of Slye's adjectives. He describes him as "a heavyset Somali with political ambitions" and one who adopted very strong, often loudly expressed, views on an issue.
"Notwithstanding the volume by which he voiced the certainty of his position, Commissioner Farah was known to alter his view according to various political interests both inside and outside the Commission," Slye writes.
He also says Farah's strong personality resulted in very serious clashes with fellow commissioners so much so that one resulted in a physical altercation while another risked becoming a criminal matter.
Slye says Farah was also committed to issues concerning the Somali population, including the Wagalla massacre.
He describes the Ethiopian Commissioner, the late Berhanu Dinka, as a consummate diplomat who was always looking for compromises and ways forward, sometimes at the expense of important principles.
Ambassador Dinka was weighed down by a terminal illness discovered in August 2012. Although frequently absent from the office since then, he still found time from hospital bed to engage in commission work.
"Berhanu was full of amazing stories from his rich and varied life, including how he survived his years in detention without being executed, the year and a half he spent working closely with Nelson Mandela to bring peace in Burundi, and his time as Governor of Kampong Cham province in Cambodia, leading up to that country's first democratic elections in 1993."
Judge Gertrude Chawatama comes out as one who was very worried about her reputation to the point of bursting in screams. When the then Justice minister, the late Mutula Kilonzo, persisted in dismissing them as a bunch of incompetent people, she reached a breaking point.
"Her voice began to rise, and she became more agitated until she was virtually screaming. It was an enormous outburst that resulted in her sitting at her desk for a good half hour without speaking as some of us tried to comfort her," writes Slye.
Slye says Prof Tom Ojienda proved himself "one of the most erratic of the commissioners" and that his "ducking and weaving with respect to the allegations against our chair was to prove no different."
"On the major issue concerning our credibility and viability, Commissioner Ojienda varied from being a close confidant, advisor and defender of Kiplagat, to demanding that Kiplagat immediately resign, and everything in-between," he says.
He described former spymaster Michael Gichangi as polished, urbane, soft-spoken and good friends with Commissioner Shava.
Whenever they met, he says, Gichangi would be wearing expensive tailor-made suits.