AG's reign at State Law Office was dogged by silent supremacy wars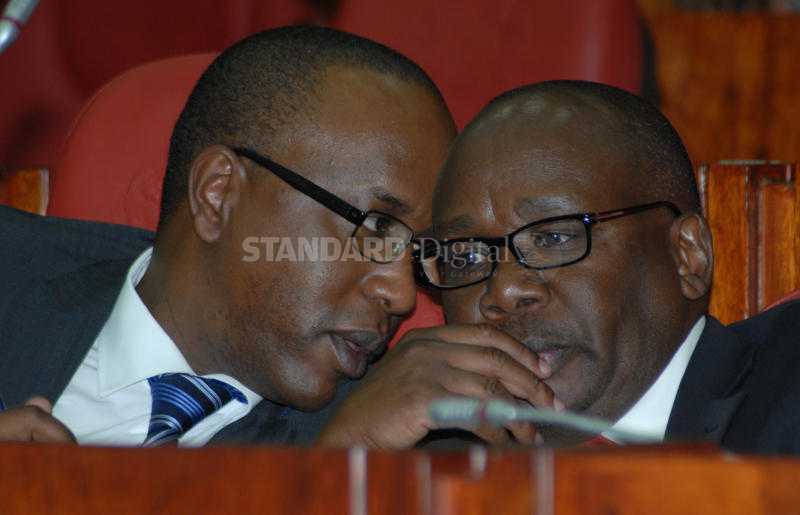 Infighting, supremacy wars and mistrust marked the relationship between outgoing Attorney General Githu Muigai and Solicitor General Njee Muturi.
As the Solicitor General, Mr Muturi was principally Prof Muigai's deputy but his actions showed a man close to the instruments of power and one who never shied from overshadowing his boss in many roles and at several state functions.
But according to a senior state counsel, the rift between Githu and Muturi was not imaginary.
Different scripts
"It was like they were reading from different scripts. The Solicitor General used to assume some roles which traditionally belong to the AG, while Muigai, on many occasions, appeared reluctant to question his actions," said the state counsel.
Muturi was viewed as being close to President Uhuru Kenyatta. Githu on the other hand was viewed as a neutral who ascended to the AG's position, not because of political connections, but due to his rich grasp and understanding of law and many years of active practice.
The AG's close friends describe him as a professional who understood his role and would speak out his mind even when his expert opinion did not augur well with the Government.
In 2016, for example, Githu backed the Judicial Service Commission (JSC) recommendation to appoint a tribunal to investigate former Supreme Court Judge Philip Tunoi over allegations of receiving Sh200 million bribe from then Nairobi Governor Evans Kidero.
Reports indicated that the President initially declined to appoint a tribunal, arguing that suspending the Judge would occasion a constitutional crisis.
In 2014, Githu also advised against some clauses in the controversial Security Amendments law, which, according to some MPs, were backed by the Solicitor General.
"Mr Muturi was all over Parliament running up and down to ensure the Bill passed. He became the face of the state law office, eclipsing his boss Prof Muigai," former Mombasa Senator Hassan Omar was quoted saying.
Muturi was also blamed for some unpopular decisions made by the Government, leaving the AG's office embarrassed.
Anglo-leasing payment
When a Court in England ordered the Government to pay Universal Satspace Sh1.4 billion for the controversial Anglo-Leasing deal, the Law Society of Kenya (LSK) blamed Muturi for doing nothing to stop the payment despite being the one who represented the Government in the court proceedings.
Githu defended himself against LSK accusations and denied any involvement in the saga, saying he was only acting on something that had been concluded.
Despite differences in opinion, Githu and Muturi maintained that there was no bad blood between them.
To fight drought, involve communities
According to the latest information from the Meteorological Department, rainfall will be poorly distributed in April, May and June, and this will have a serious impact on agriculture