Leaders mourn Former Nominated MP 'Bwana Dawa'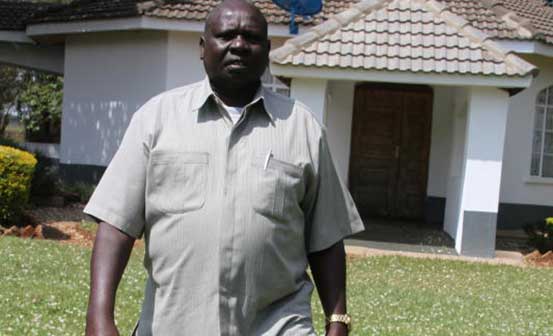 President Uhuru Kenyatta and his deputy William Ruto yesterday led leaders in mourning former Nominated MP Too who died at an Eldoret hospital.
Mr Too, arguably an outspoken, energetic, charismatic and influential politician in the late 1980s and 1990s, died at St Luke's Hospital where he had been rushed by his family after collapsing in his bathroom.
Too was in the 1990s popularly known as 'Mr Fix it' or 'Bwana Dawa' because of his hawkish ability to cut political deals with the Opposition and his closeness with retired President Daniel arap Moi. He retired from politics in 2007 and has since been an active farmer in Nandi and Uasin Gishu.
President Kenyatta said it was with deep sadness that he had learned of Too's death.
"Mark was a jovial, easy-going character who fully embraced humility. I express my condolences to Mark's family and pray that God will grant them the strength to endure this loss," said the President.
Ruto described Too as an industrious, affable and charming leader who used humour and wit to win over many and never kept a grudge.
Mr Fix it
"Too was a friend to peace and unity of communities. He had a wealth of knowledge and experience which he shared with leaders, businesspeople and farmers alike. His calm presence and down-to-earth personality meant he was able to mediate and defuse tension during crisis situations and protracted negotiations," said Ruto.
CORD leader Raila Odinga noted that Mr Too was a pragmatic politician who maneuvered the power games in Kanu to emerge a central figure in the party, especially in the run up to the Moi succession and the elections of 2002.
"I treasured his friendship as a well meaning politician navigating between very powerful opposing forces. In the process, we became very close friends. I stand with his family and friends at this moment of grief," said Raila.
Wiper leader Kalonzo Musyoka remembered Too as an energetic and influential politician.
"Mark was an extra ordinary ambassador for former President Moi and he played his part with a lot of energy and excitement, he was brilliant and engaging and this allowed him to be close to most presidents in the region," said Kalonzo.
Kalonzo said Too was a presidential special envoy and organised the Bulawayo Agricultural Show, following his closeness with Zibabwean President Robert Mugabe.
Amani National Congress leader Musali Mudavadi said Too was a friend indeed and he helped many overcome hard times through mediation and negotiations.
"He was always the first to try and solve a political conflict wherever it appeared, Mark trusted that human beings were naturally born and could be made better," said Mudavadi.
Eldoret Catholic Bishop Cornelius Korir said it was a sad and sudden death. "I wish his family and friends strength at this time of grief," said Korir.
Development
National Assembly speaker Justin Muturi said, "It is indeed shocking to learn of Hon Too's death. His demise has robbed the country of a courageous and amiable person. I send my condolences to his family and friends."
Former lands CS Charity Ngilu said Too showed leadership both in the House and outside Parliament and supported development projects everywhere so generously. "It's a person we are honestly going to miss. May he rest in peace," Ngilu.
Nominated Senator Zipporah Kittony said, "I am shocked. I can't believe he is no more. He was selfless and a good mediator. This is very disturbing news. We didn't hear of his illness. His death is tragic. I am lost for words."
Former Gatanga MP David Murathe said: "He was an enigma. Bwana Dawa was a true Mr Fix It. The only person who managed to diffuse the tension, disarmed and neutralise Tinga (Raila Odinga) in the last days of the Moi presidency to enable Nyayo finish his term peacefully."