Leaders ask Gideon Moi to vie for president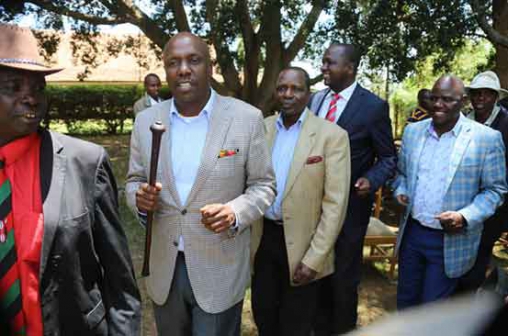 Over 200 leaders from Sabaot want Kanu national chairman and Baringo Senator Gideon Moi to vie for the presidency in 2017.
The leaders, who visited Gideon at his Alphega home in Mogotio, said the Kanu chairman was best suited to represent the interests of the community as the president of the country.
Former Mt Elgon MP Joseph Kimkung, who led the delegation, said compared to other leaders from the community, Gideon stood a good chance of becoming the President given his background and leadership style, which was described as non-combative.
"Gideon has the qualities of a unifying leader, which the country is yearning for. Other leaders portray divisive politics," he said.
Adding his voice, Fredrick Cheptot said the community had lived in regret for ditching Kanu for Jubilee. Mr Cheptot said the community has been ignored by the Jubilee government in terms of development despite voting overwhelmingly for it in 2013.
"We regret ditching Kanu. The residents are suffering from marginalisation despite voting in the Jubilee government. The most senior positions we hold in Government are as parastatal board members," said Cheptot.
Baringo Speaker William Kamket said Kanu was a symbol of national unity and commended Gideon for rejecting calls to have the party dissolved to join the Jubilee Party.
Mr Kamket said all pastoral communities had decided to flock back to Kanu.
"I am sure the rest of the country will follow suit after being duped that they were in Government yet they do not benefit," said Kamket.
North Rift Kanu politician Barnabas Bii accused Deputy President William Ruto of placing his personal interests ahead of the community; saying despite complaints about poor maize and milk prices in the region, Mr Ruto had remained noncommittal.
"It is Ruto who has lost political network. From Kanu, he moved to ODM, then UDM, URP, Jubilee Alliance and now Jubilee party. This is why we are warning him to stop bringing his confusion to our party," said Mr Bii.
He advised Kalenjin delegations to stop visiting Ruto's official residence in Karen, Nairobi, and instead raise their issues with President Uhuru Kenyatta at State House.
Gideon assured the leaders that Kanu would remain independent and consult widely on the next course of action. He said the party had entered a post-election coalition pact with Jubilee, which would be reviewed on the dissolution of the ruling coalition.
"Let it be understood that this is the only political outfit with Kenyans' interests at heart," he said.