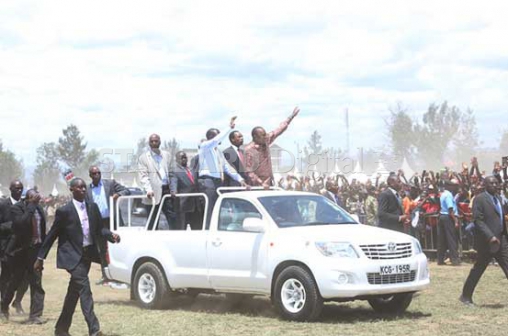 The former 'Ocampo six' made a grand entry to Afraha Stadium aboard a white pick up at exactly 12.16pm yesterday.
The awkward moment was not that the tallest of them did not stretch long enough to reach the surging crowds nor the shortest of them all appeared dwarfed by the tall men but that they looked out of place atop the open pick up.
While President Uhuru Kenyatta and his deputy William Ruto stretched their hands out, Maj Gen (Rtd) Hussein Ali, Henry Kosgey, Francis Muthaura and Joshua arap Sang looked dazed, perhaps not used to such open reception by thousands of supporters.
The pick-up snaked its way through Nakuru town accompanied by hundreds of supporters who danced and chanted as the leaders made their way to the stadium.
Ululations rent the air as the leaders entered the stadium.
Clerics led by Bishop Mark Kariuki conducted the thanksgiving prayers for the dismissal of the ICC cases.
Thousands followed the proceedings on giant screens mounted around the venue.
The TVs replayed the ICC journey of the leaders six year ago until the last case of Ruto and Sang that was terminated two weeks ago.
Thousands of Kenyans thronged the stadium for the thanksgiving prayers.
The residents who started trickling in from as early as 6am went thorough security checks conducted by officers from National Youth Service, GSU and Administration Police officers.
A man was arrested after the hawk-eyed security agents found a bullet in his pockets.
The man told police officers he found the bullet on his way to the stadium.
Kiambu Governor William Kabogo caused a stir when he used one of the entry points designated for the public.
The presence of Nairobi Senator Sonko did not go unnoticed as the crowd demanded he addresses the rally. Sonko, who was donning a T-shirt printed with words "ni maombi tu," led the crowd in chanting "sio uchawi ni maombi" (It's not witchcraft but prayers).