Push to open Kenyatta's grave as Uhuru marks 37th anniversary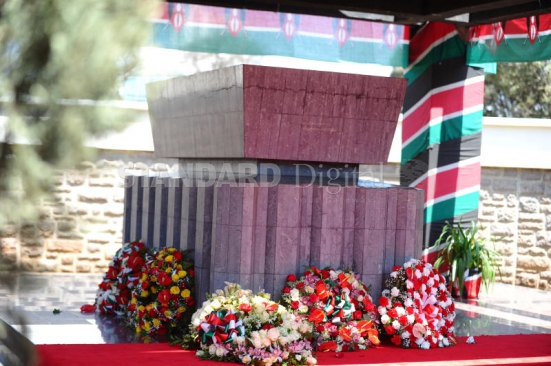 President Uhuru Kenyatta will Saturday walk to Kenya's most secure grave and honour the life and times of the nation's founding father, and who gave him a big name.
The President, who was born to power, will lay flowers at his father's grave, pay his respects and then attend mass at the nearby Holy Family Minor Basilica, according to State House.
The pavement to the mausoleum is made of concrete slabs. On each side of the pavement just inside the gate are 22 evenly spaced flagpoles, 11 on each side and about two metres apart. The poles always fly Kenyan flags. But as other flags across the country fade or even tear as they submit to weather elements, these ones always look new.
Through the black gate made of metal grills, just past the flowerless bougainvillea hedge, there are five little palm trees to the left, and two to the right. At the top of the entrance to the mausoleum, one will not fail to notice the two black sculptures of lions on each side of the entrance.
Today, Uhuru, his family and guests will walk on a red carpet to lay flowers on the base of the mausoleum made of glass, glittering marble and stone.
It will not be the first time the Head of State and his family will be walking to the military-protected mausoleum of Kenya's founding President. It is a journey the President has made with near-religious regularity for nearly four decades. But this will be the first time he will be doing so amid a clamour to open the mausoleum to the public.
Malava MP Moses Malulu Injendi has filed a motion seeking the opening of the mausoleum to the public, a bid that has been in the waiting list for the past six months. The MP wants a memorial building erected to teach the country about its first post-independence Prime Minister and President.
The MP's point is that 33 million Kenyans are below 35, meaning they never saw Kenyatta who died 37 years ago.
"...concerned that despite the clamour over the years for the mausoleum to be opened to the public and possibly be a tourist attraction, no steps have been taken in this regard; further concerned that 70 per cent of Kenya's population is below the age of 40 years, to whom Jomo Kenyatta remains a distant historical figure with whom they have little or no connection despite his importance in Kenya's history; this House resolves that the Government creates the Jomo Kenyatta National Memorial at the current mausoleum similar to the one of the founding President of the United States of America (USA), George Washington, where archival information of his life and his remains will be open to public viewing," reads the Motion tabled in mid-February.
Senate Clerk Jeremiah Nyegenye says the mausoleum is "secured to prevent desecration".