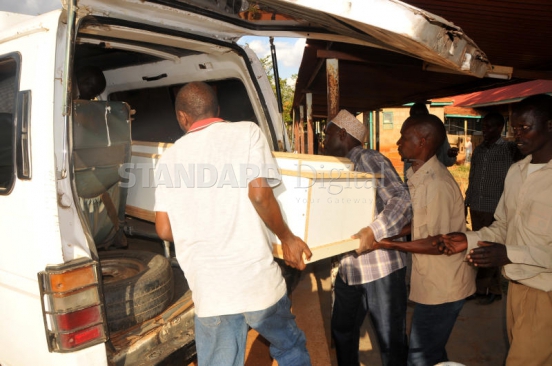 A preliminary autopsy on the body of International Criminal Court witness, Meshack Yebei, conducted at the Voi County Referral Hospital mortuary Friday, has not determined if he was murdered, or killed by animals.
And the cause of death may not be known soon even as Meshack's family prepares to take away the body today for burial, because additional tests on tissue samples will take time because of their advanced state of decomposition.
After close to three hours of examination of the body done by two specialists and witnessed by relatives and human rights representatives, the pathologists announced that additional tests on samples harvested from the body will determine the cause of death.
According to Government records, the body was found on December 30, last year in a wildlife infested game park and initial reports indicated the eyes were gouged out and an incision or hole made in the throat.

Government pathologist Ngali Mbuuko and the family pathologist Ndungu Rugumi, said specialised tests on these samples will determine how Meshack died.
"We have not been able to determine the actual cause of Yebei's death as at now. There were, however, injuries on the legs and arms and the bruises are fresh and superficial," declared Dr Muuko.
"The cause of death is still unknown and uncertain. Several specimens of the body have been taken for further analysis for the purpose of getting conclusive results in order to ascertain the actual cause death," added Rugumi.
"There were abnormalities with the tissues and we cannot tell when the additional tests will be concluded," said Dr Rugumi.
Haki Africa executive director Khalid Hussein, who also witnessed the postmortem, said the pathologists also confirmed bruises in the arms and below the knees on Yebei's body.