Standard Gauge Railway workers down their tools over poor pay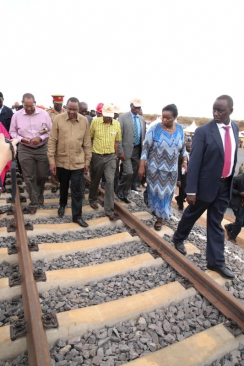 More than 300 local workers of China Road and Bridge Corporation (CRBC), the contractors for the Sh327 billion Standard Gauge Railway (SGR), have gone on strike alleging poor working conditions.
The workers have been on strike since Thursday, but officials of the corporation said they were not aware.
"I have not been informed about the strike by the workers and so I can't comment on it," James Chen, a CRBC official based in Nairobi said in a telephone interview.
The workers claimed the company was paying them poorly. They claimed drivers go home with Sh650, while machine operators get Sh700 and casual labourers Sh400 a day.
A spot check at the Mariakani and Samburu sites in Kwale County revealed that workers had kept off.
At the Samburu site, heavy duty vehicles, including tipper lorries, were parked at the campsite, while in the designated locations where actual ground laying work of the rail track was going on, only Chinese workers were on site.
Only last week, President Uhuru Kenyatta witnessed the laying of the first 500-metre SGR track at Mtito Andei in Makueni County where he directed that more than half of the 30,000 jobs arising out of the project be filled by locals. The latest development is bound to enrage the presidency and the Ministry of Transport. However, efforts to get comment from Cabinet Secretary Michael Kamau proved futile.
But speaking to The Standard on Sunday, a senior official at the ministry regretted the developments but quickly absolved the government.
"This is a matter that the contractor must address swiftly. They employed them and have a duty to address all human resource issues. We want this project completed and handed over to us within deadline," said the official, who requested not to be named.
At one site, Ms Irene Anjama Bogita, a machine operator, said they lacked safety gear at their duty stations, thus endangering their lives.
Physical abuse
Ms Mwanasiti Mgalla, another worker employed as a cleaner, said she was hit on her back by a Chinese expatriate worker for allegedly failing in her duties. "I felt bad but there was nothing I could do since I needed this job," she said.
"We are underpaid and work extra hours under this harsh weather. There are no off days and no transport to our work stations,'' added Mr Joseph Onyango, a worker in the engineering department.
The workers also alleged there was an influx of workers brought from China to do manual jobs which locals could handle effectively. "There are simple machines here which do not need experts to handle. But Chinese come and shove us aside and take over," said Daniel Mwagudu.
Sources at the Ministry of Transport said the dispute started a few weeks ago when CRBC bosses accused contracted drivers of siphoning diesel from trucks and selling it to a local businessman.
"There was actually a scuffle over the siphoning saga following which the said drivers incited their colleagues," said the source.
Efforts to get comments from top CRBC officials were futile, as a senior manager at the Mariakani site, which serves as the headquarters for the SGR section 1, referred The Standard on Sunday to his bosses in Nairobi.
A senior manager of the company said they were under strict instructions not to talk to the media.
Mr Chen insisted the company's policy was that journalists must write to the company to request for interviews.
He explained that the request must reach the company 24 hours before an interview. "It is a policy my friend. You have to book with us 24 hours before the interview can be conducted. We have to know in advance and arrange the right people to accompany you and answer questions," said Chen.
The SGR is one of the Jubilee government's flagship projects and its first phase consists of the construction of a rail on a 485km stretch from Mombasa to Nairobi. The proposed railway line passes through eight counties, including Mombasa, Kwale, Taita Taveta, Makueni, Kajiado, Machakos and Nairobi.