Confusion reigns over Al-Shabaab and Mpeketoni link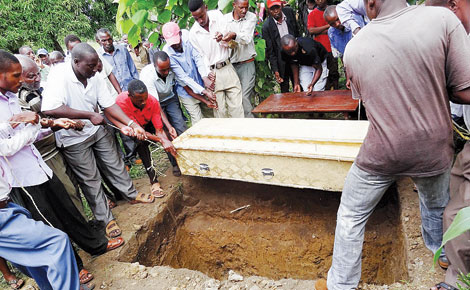 The remains of Francis Kamande, who was among those killed on Sunday night, are lowered into the grave for burial at his Umoja village farm. More than ten bodies were Wednesday collected from the morgue for burial. [PHOTO: Gideon Maundu/STANDARD]
Kenya: Confusion is raging over claims Al Shabaab carried out the Sunday and Monday attacks in Mpeketoni, Lamu County, after President Uhuru Kenyatta absolved the terror group and said politicians were behind it.
Even as police arrested a Kenyan they said used the twitter account, @HSMPress_ to tweet Al Shabaab's claims, the respected Bloomberg News reported yesterday that a man claiming to be Sheikh Abdulaziz Abu Musab, spokesman for the terror group's military wing, said they carried out the attacks.
"The mujahedeen forces carried out two consecutive attacks on two settlements near Lamu. One was Mpeketoni and the other one was a village close to and the other one was a village close to Mpeketoni," said the man in a recorded five-minute audiotape broadcast by a radio station friendly to Al Shabaab.
National Police Service Inspector General David Kimaiyo said they also arrested two other suspects including the owner and driver of a vehicle that was allegedly used to ferry some of the attackers who struck the area.
Kimaiyo said Mr Ishmael Omondi was arrested in Kariokor, Nairobi and held for questioning over his alleged links to the Twitter account.
The audio tape by Al Shabaab claiming ownership of the Sunday and Monday attacks in Mpeketoni, where more than 50 Kenyans were killed, was also posted on a website linked to Al Shabaab at 1957 hours on Tuesday.
This was about four hours after President Uhuru Kenyatta had absolved the Somalia-based terror group of blame over the attacks in a live telecast from State House, Nairobi. The Standard could not independently verify the authenticity of the recording.
The first alleged claim by Al Shabaab was issued via a statement on Monday. That claim was initially supported by key officials of the Lamu County Security committee before President Kenyatta's address to the nation.
Late Monday, Interior Cabinet Secretary Joseph Ole Lenku created a political storm when he first linked the violence to politics.
Uhuru and Jubilee politicians insisted that Kenyan political groups bent on ethnic cleansing of "a Kenyan community" and not Al Shabaab committed the mass murder, without stating why Al Shabaab could lay claim to an act it did not commit.
Wednesday Somali journalists with extensive knowledge of Al Shabaab maintained that the voice on the latest tape is that of Sheikh Abdiaziz Abu Musab, a key Al Shabaab propagandist.
Tape recording
It was, however, not possible to confirm when the tape was recorded although it refers to Sunday and Monday's events.
Referring to Monday's attacks the voice on the tape declares that "yesterday mujahedeen (holy fighters) attacked other towns in which enemies were stationed targeting specific people and they killed people they were looking for and destroyed their property...."
Apparently the speaker is referring to the attacks in Kaisari, Mavuno and Maporomoko villages outside Mpeketoni on Monday, where nine bodies were found, although the tape claims 20 people were killed. Residents have said that Monday's attackers abducted some people, including women.
"If you put together those two attacks you can see so many people have been killed, houses, hotels, banks and vehicles burnt," the speaker declares.
In preceding remarks the speaker refers to Sunday's attacks claiming that Al Shabaab militants secured Mpeketoni to murder after "driving away the police from the [police] post... that made it easy for our fighters to take full control of Mpeketoni."
The speaker claims the Sunday attacks started at the police station in Mpeketoni and spread to banks and hotels in an operation he claims lasted 10 hours.
"Mpeketoni was in the hands of our fighters for more than 10 hours, from 8 in the evening to 4 in the morning," the speaker claims and concludes that the attackers retreated without any casualties.
Somalia invasion
He then exhorts Muslims in Kenya to fight authorities and declares Kenya "a war zone" without referring to Kenya's military forces in Somalia.
In the past, Al Shabaab tapes base their threat to attack Kenya on Kenya's military intervention in Somalia against the militants since 2011.
Things became murkier after it emerged that the twitter account that Kimaiyo has linked to the suspect, Mr Omondi, was already up and running before and during last year's Westgate terror attack and was known to Kenyan military intelligence and security agencies.
The account holder had been tweeting events of the attack on Westgate and other terror-related issues. A posting on the account on Tuesday after Uhuru's State house speech said Al Shabaab has never laid claim to an attack they have not been involved in.
Officers from Anti-Terrorism Police Unit (ATPU) arrested Omondi and it is not clear if he will be charged in court.
"Also in police custody is a suspect who was operating social media accounts purportedly used by Al Shabaab to claim responsibility," said Kimaiyo.
Interior Principal Secretary Mutea Iringo said Omondi was running the twitter handle for Al Shabaab and using it to link the killings to the militants.
Suspects in custody
"It is clear the communication posted on the handle never came from the Al Shabaab leadership in Somalia," said Iringo.
Kimaiyo said they had also arrested two other suspects in connection with the Mpeketoni attack, including a Mr Ahmed Abdallah they claimed was the owner and driver of one the vehicles used by the attackers. Initial reports had indicated that the vehicles used had been stolen.
Police alleged that Mr Salim Dyana, who was also arrested, was the driver of a vehicle used in the attacks. Dyana had told police the attackers hijacked the car.
Kimaiyo said more suspects, including political leaders, would be questioned. Sources who cannot be named because of the nature of the investigations said the National Intelligence Service has linked several local politicians to the attacks. Senior security officers have been suspended over the attack.
"The following officers were today interdicted for laxity and they will be charged in court as per President Kenyatta's directive," said Kimaiyo
He named the interdicted officers as county commanders APS Rashid, KPS Omollo and DAPC Bonaya, while OCS Aden Ali was dismissed with immediate effect and he'll be charged in court.
Australian firm strikes oil in Lamu
Pancontinental Oil and Gas Wednesday announced that an exploratory well that it had sunk off the Lamu coast in March encountered amounts of oil, which the firm said was the first offshore discovery in Kenya.