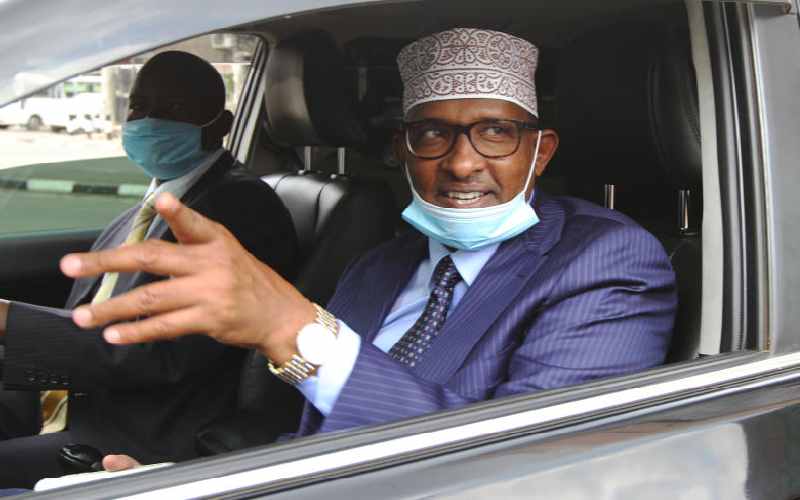 To most of Jubilee and ODM supporters, he was an itch that needed to be scratched. A widely loathed and detested figure in Jubilee's first term, many are not surprised that Aden Barre Duale (pictured) had to go; they wonder why it took so long.
The enduring memory of the deposed Leader of Majority is that of an acerbic, sabre-rattling figure who saw things as either black or white. His role in Parliament needed him to reach out most of the time. He chose the opposite, often rubbing many the wrong way.
Highly divisive, Duale advanced adversarial, majoritarian politics. His ignominious fall carries lessons for students of political science besides the truism that whatever is up must come down. That the feuding in Jubilee has somewhat drained the vitriol against Duale confirms the widespread feeling that he was a product of the horse-trading so common in our ossified politics. His fall is also about how Jubilee, a party with promise, was sank by a fratricidal fight between right wing conservative mobs and those on the left. In the end, Duale became a victim of the politics that propped him up. As Leader of Majority in the 11th Parliament, rather than embrace consensus and compromise on critical national issues, he chose the path of partisanship, blind loyalty and suffocating bigotry.
He constantly harangued opposition CORD members, reminding them of the infamous Jubilee's "tyranny of numbers". Parliament represents the seat of our democracy. It is the fulcrum of our representative government and discussion, negotiation and compromise are its hallmarks. Duale in his dealings, eschewed these virtues. Loyalty to his beloved Jubilee meant only one thing; everything started and ended with Jubilee.
Read More
Once in 2016, he threatened a motion to censure a judge who ruled against Jubilee. He accused Justice George Odunga of playing tribal politics and partisanship. This was after he led his party in bulldozing through contentious amendments to the Elections Act. Ironically, budget cuts that have severely undermined operations at the Judiciary did not bother him. Rather than elevate Parliament as a bulwark against misrule and a promoter of the rule of law and constitutionalism and thereby ward off an overbearing Executive, he saw and heard no evil. He never raised a finger even when the Executive obdurately pushed on what was by any measure, retrogressive laws that among others, sought to reverse the gains and risked constraining the democratic space which ironically gave him the freedom to speak and voice his opinion.
John Stuart Mill, a key proponent of representative government must turn in his grave. The British philosopher's notion was that elected members – regardless of party loyalty - represented the interests and concerns of voters. In short, Parliament exists to debate and make laws on behalf of those who voted for them. It seemed as though that didn't matter to Duale. He canvassed for laws that were inimical to the Constitution.
He has not spoken against the Executive's apparent bullying of the Judiciary and Parliament. Elsewhere, parliamentary democracy has been the foundation of prosperity and stability. In Kenya, Parliament and MPs conjure up unpleasantness. MPs are the poster child for lies, greed, sexual immorality, wastefulness, uncouth behaviour, ingratitude, corruption, sleaze and slander.
By design or default, Duale often found himself swept up in the furore that he caused. While addressing a rally in Narok in 2014, he infuriated then Bomet Governor Isaac Ruto with the obviously disparaging remark; "hii si pesa ya mamako bwana".
Lonely night
History would have treated him kindly had he disavowed politics that thrive on backroom dealings, backstabbing and gossip. Instead, he played centre-stage promoting the very things that came back to bite him hard. In spite of or because of the new Constitution- that outlines the separation of powers- he became part of the sing-along and had no qualms about Parliament being at the beck and call of the Executive.
Duale, it seems, took light Rudyard Kipling's caution in the famous poem If. He never stepped out of the official line and perfected the art of conforming. His resembled those awkward moments in an orchestra when a performer miscues and hits the wrong note. Enthusiasm had got the better of him and must have missed the change of set and the conductor.
As he walks away into the quiet, lonely night, Duale needs Kipling's wisdom. Now the world is waiting to see how he treats Disaster. Were his shortcomings limited to just Triumph? In his poem, Kipling hails the man who meets the two imposters and "treats them just the same."
-Mr Kipkemboi is The Standard's Associate Editor for Partnerships and Projects.