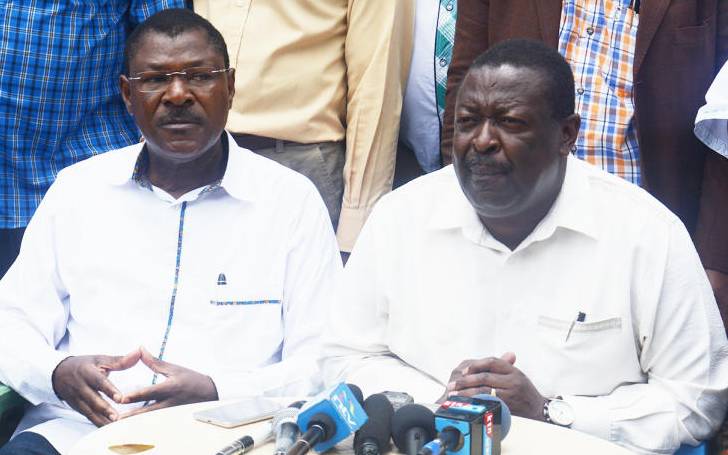 Talk of Luhya unity is in the air again, signalling another round of political wrangles - a prelude to 2022 General Election.
For the last few decades, the election campaign season starts with talk of Luhya unity; a flurry of 'noisy and messy' meetings, which are followed by a lull immediately after the polls.
The return of this political curtain-raiser, once again, raises many questions. Why the perennial hullabaloo about Luhya unity? Who are the major beneficiaries of the so-called elusive Luhya unity? What is going on within the Mulembe nation that even in this era of partial lockdowns and social distancing such must go on?
Whereas the majority of Kenyans consigned crucial community decisions, meetings, political activities and social gatherings to the back-burner until the Covid-19 situation normalises, it is clear things are different in Western.
It is business as usual politically in the Mulembe nation, and curiously, the older generation that we have been warned is most at risk is the most active.
We have witnessed the senior citizens crisscrossing counties to attend meetings in Kajiado, Nairobi, Bungoma and Malava at the height of this pandemic.
What prompts a leader to cross five counties at the risk of death to attend a political meeting crowned by a rhumba dance in a far off town?
What is so urgent that leaders from the Mulembe nation cannot wait until we have an all-clear signal from Health CS Mutahi Kagwe? Are members of the Mulembe nation going somewhere tomorrow that their unity must be sorted out today?
Political fights
Whatever the case, I need to point out that no unity can be achieved when some members of the community are chest-thumping, daring each other to political duels, engaging in incessant political fights and generally working at cross-purposes.
Why wrestle a party from a fellow Luhya while at the same time pretending to champion unity? Political expediency is no sufficient excuse here, unless, of course, you are under instructions from some quarters.
Is Luhya unity really important? I do not think so. In fact, I do not think Mulembe people should waste time trying to forge a united front.
As a matter of fact, I have always seen the Luhya community as a 'model' that all other communities should emulate. It is the most democratic as all political parties have followers there — and they get votes at the end of the day.
It is only in Luhyaland that you get a national outlook as far as political representation is concerned. Jubilee, Narc, Maendeleo Chap Chap and Kanu, among other political parties, have found a home here together with the local ANC, Ford-Kenya and ODM. That is something to be admired, not frowned upon.
Voting booths
What is clear is that the Luhya community is envying other ethnic groups that are usually shepherded to the voting booths like sheep and so end up voting en bloc for 'one of their own'.
Kikuyus, Luos and even Kalenjins have done that repeatedly, hoping that after taking their man to State House, he would bring them goodies. But this rarely happens.
President Jomo Kenyatta assumed office in 1963 and the Kikuyu community did not benefit much. The same script resonates for Presidents Daniel arap Moi, Mwai Kibaki and now Uhuru Kenyatta.
Throughout their reigns, voters from their localities never benefited much. That is the sad reality. Yes, people are thrilled that their tribesman is in the house on the hill, but how does that help them?
Considering these two factors, the Mulembe nation should take pride in its ability to nurture heterogeneity on issues religion, inter-marriages and politics, and export this critical sense of 'unity in diversity' to other Kenyans. Luhyaland is the epitome of democracy that needs to be emulated.
It is high time the Luhya community took pride in this democracy that it has enjoyed over the years.
It is not important for the Luhya community to unite for the sake of voting as a bloc but it is important for communities that vote in that manner to stop doing it for the sake of it.
Voting should be based on individual, not communal decisions, driven by the manifestos and promises of the various parties.
That is what democracy envisages. Tribal voting conclaves always undermine democracy. They are not good for democracy.
The author is a communications specialist.