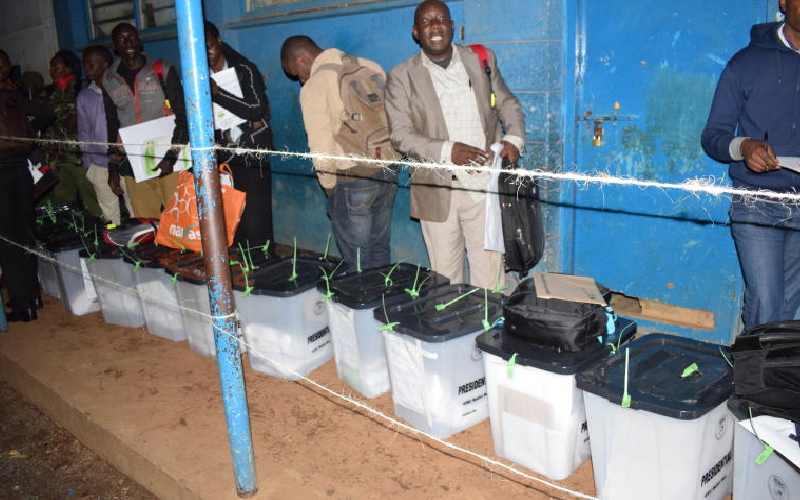 "Never again will Kenyans fight!" Nearly every politician in leadership has repeatedly uttered these words in various platforms.
Since the 2007 disputed presidential election results, this statement has been uttered at every election campaign. In 2013 and 2017, it was the same, though the situation on the ground tells a different story.
Other wiser statements have also been made. "Elections come and go" sounds a reasonable wake up call – doesn't it? "Kenyans are wiser now" is another sobering statement that comes around every time we hold a general election. Of course, Kenyans are now used to the "accept and move on" invite.
While we thought our energies should be spent fighting the Covid-19 pandemic, political actors have clearly "accepted and moved on" from the fight. Either they have resigned together with WHO that the disease will be with us for decades, or they know something we do not know. So, where have they moved to? Politicking!
As dutiful citizens, we follow our leaders. So let us engage in politics and forget campaigns to fight coronavirus. The lower cadre can deal with that. After all, that is what delegation of duty is all about. Work that staff in the lower ranks are entitled to do should be left to them.
Read More
Good children know that parents handle many issues and are likely to forget. Like children, good citizens remind their leaders of promises made. In past general elections, Kenyans lost lives, others were displaced while still others sustained lifetime injuries. So, the good leaders, conscious of this pain, resolved in their wisdom that "never again will Kenyans fight".
Heightened tension
Political realignments, like those now afoot, are normal in a democracy. What is not normal is that such realignments cause confusion, hatred, heightened political tension and subsequently electioneering campaigns whose results lead to uncalled for deaths and suffering.
Thankfully, we have so far emerged out of contested election outcomes and somehow remained loosely holding together as a nation.
We have started to worry over whether we are once again headed to another frightening general election in 2022. Not that we should know who will be the next State House number one resident, but that we should not be dead-scared of what might happen before, during and after the 2022 elections. The 2022 elections are pegged on a potentially explosive referendum following the BBI report yet to be finalised.
This is why a kind reminder is important at this point. The Kenya Conference of Catholic Bishops, in its Pastoral Letter released early this year, says this: "One, any referendum must unite Kenyans for a common good. We cannot stress enough to the people of Kenya and the government, that a divisive referendum like the one we witnessed in 2005 and 2010, must be avoided at all costs.
The referendum
"Kenyans still need to heal the wounds resulting from political contestations, address recurring grievances as recognised in the TJRC report, and reconcile our nation.
"Therefore, a well-structured dialogue process that would bring all stakeholders together to assess all proposals and options is needed before the government leads the country into a consensus on whether a referendum can be held or not."
"Two, in reflecting further, we caution that a referendum can also be expensive and may be wasteful while we find ourselves as a country with the pressing issues of the people's unmet economic, social and democratic development needs. We will be hesitant to legitimise a process that will further hurt the people. We therefore support only solid and transparent plans, adopted with a clear converging consensus, if and when the referendum takes place.
"Three, a constitution outlives its makers. Any proposal for amendments should be acceptable only when it has clear long-term goals. Any self-serving short-term proposals having the interests of just a few privileged and highly placed individuals must be rejected. A criterion must be put in place that only permits amendments that will advance the national interest applying its guiding principles and values in Article 10 of the Constitution."
As the bishops point out, leaders in the political space should remember that all along, they have promised that "never again will Kenyans fight for power". We will dutifully remind you again should you forget because of your busy schedules.
Dr Mokua lectures on media and communications studies