BBI drive is best weapon in graft fight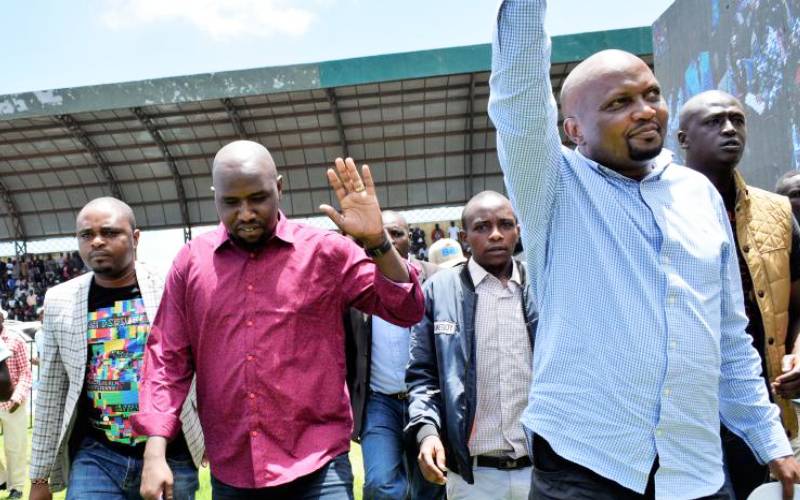 Kenya is undergoing a momentous moment. The country is on the verge of realignments as the Building Bridges Initiative presents the political class a chance to flex muscles.
Of contention has been proposals to amend the Constitution. There are those who agree with the call but disapprove of the methodology. Others link the process to a wider 2022 scheme. Majority, however, have confidence in the BBI.
Truth is, in a democracy, people may not think alike. Divergence in opinion is healthy. Whichever stand one takes, there's no denying that Kenya yearns for change. If events of 2007, 2013 and 2017 are anything to go by, we aren't sitting pretty and certainly something needs to be done. Methinks BBI has the potential to breathe fresh air into the political future of Kenya and especially in the fight against our foremost cancer -- corruption.
The arrest and charging of high-level politicians as well as private sector businessmen has helped make more concrete the reality of just how damaging corruption is to the future of our country.
Through the BBI, this is an issue citizens finally have the chance to assist and take part in addressing.
Year after year, corruption has led our economy to lose billions of shillings. Although Kenya has made significant progress in taming this beast, we should take decisive steps. BBI gives us a chance to do just that due to the obtaining goodwill.
The fact is that negative effects on our economy aside, corruption has also been used to reinforce discrimination against certain tribes in Kenya. The impact of this can easily be seen when evaluating degrees of development in different parts of our country. This links the problem of corruption to the wider goal of the BBI initiative, which as we all know, is to unite our tribes and build a more cohesive, representative system of governance.
With a unique degree of foresight, the BBI taskforce and, in fact, the President himself, have emphasised the importance of educating younger generations in both honesty and tolerance. Incorporating ideas of honesty and fairness in our school curriculum would be just as integral to our progress as a nation as teaching our children about tolerance and respect for our fellow citizens.
Executive power
BBI's emphasis on governance is timely. If the decentralisation of executive power and the introduction of an official opposition are achieved, as envisioned by the BBI report, mutual oversight and cooperation between major political forces could finally put an end to wide scale issues of bribery.
While a top-down approach to the crackdown on corruption is important, this on its own is insufficient. Make no mistake. Without such an approach and particularly the efforts of President Kenyatta, our country would not currently be on the path to restoring transparent and trustworthy governance. We can make it better.
Public procurement that invests in our infrastructure, healthcare and education systems, as well as our economy more generally, is crucial for spurring socio-economic development. It is precisely here that the effects of corruption are most evident. The Ethics and Anti-Corruption Commission (EACC) found out that more than two-thirds of corruption cases are related to procurement.Take the collapse of the Galana Kulalu project and the scandal in connection with the construction of the Arror and Kimwarer dams both led to Sh36 billion being lost. Of course, these funds would have been spent on improving Kenyans' lives.
The fast-track approach that Uhuru has introduced to seek out the source of corruption and convict those responsible is commendable. We now see a rare unity in Jubilee and Opposition rank and file.
Courtesy of the BBI and handshake, we now have projects evenly spread across the country, not to mention jobs for qualified Kenyans. Several roads have been carpeted and major investments such as the Kisumu port unveiled. In my home locality, the Sh4 billion Lower Kuja irrigation scheme is among the key projects in agriculture earmarked for revival. BBI is the political messiah we have been waiting for.
- The writer is former Nyatike MP
Download the BBI Judgement by all seven Judges - Civil Appeal No. E291 of 2021