Make your voice heard in the crusade against extra-judicial killings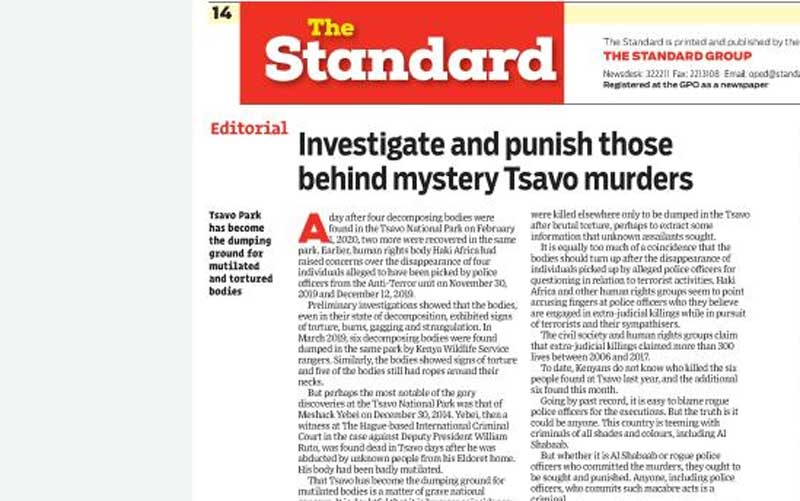 This week, four badly mutilated bodies were discovered in the mortuary of Makindu Hospital in Makueni County. The dismembered remains had been recovered from Tsavo Park a fortnight ago and last weekend were formally identified by family members thanks to the vigilance and determination of the Mombasa based Haki Africa organisation.
The four young Kenyans were laid to rest in Kwale this week in the same homesteads where they had been forcibly removed by state security agencies in November and December last year. Denied a fair trial and a humane ending they at least deserve to not have died anonymously.
They were Juma Said Sarai, Khalfan Linuku Abdullah, Nassir Gatana and Usama Nassir loved and mourned by their own who will retain little trust in government security agencies who still promote their motto, 'Utumishi kwa wote' (Service for All).
Had this happened in many democratic and law abiding countries around the world it would have provoked outrage and probably competed for front page news. There would have followed public condemnation and demands for a public inquiry as well as calls for the resignation of the Security Minister and the Police Commissioner. In Kenya, however their passing was a 'meanwhile story' in journalistic terms and the only angry voice was that of Hussein Khalid of Haki Africa. No man of God or elected representative took to the airwaves to condemn this atrocity.
Extra judicial killings and enforced disappearances are such everyday experiences that they no longer provoke outrage. Haki Africa recorded eleven such enforced disappearances in 2019 while Human Rights Watch has documented twenty one extra judicial killings in Dandora and Eastleigh in 2018.
The country's major anti-torture organisation, Independent Medico Legal Unit report that Kenyan Police killed 1,252 of their own citizens between 2009-13 and a further 976 between 2013 and the end of last year.
Even if these figures are dreadful they still don't provoke outrage. The common belief is that they were suspects-cum-criminals not worthy of a fair trial only deserving of a brutal death.
Tsavo has become the preferred dumping ground for victims of state terror. Samir Khan was picked up by Anti Terror Police Unit in Mombasa and his body dumped there for the hyenas to scavenge on. Meshack Yebei who was a witness in the William Ruto ICC Case met a similar fate and his charred remains were discovered in Tsavo in December 2014. In March last year, Muslims for Human Rights (Muhuri) discovered six more mutilated bodies in Tsavo but never managed to identify the victims.
Will enforced disappearances and extra judicial killings ever end in Kenya? Perhaps we might first ask when did this barbaric, criminal behaviour first begin and how did it ever become acceptable and endorsed by the majority? The colonial administration had little time for the rule of law despite claiming to have invented it.
Yet, disappearances and executions became frequent in the post independence era. During that period political opponents were assassinated and others detained and tortured.
Successive regimes justified such sadistic and inhuman behaviour as activists and democrats were demonised as a threat to the state. They got away with murder and impunity because the propaganda machine convinced the public that the governments of Kenyatta and Moi were about to be overthrown.
Even with the advent of a new Constitution and an enlightened citizenry, victims of state violence have yet to be adequately compensated while the principal architects of state terror have never faced justice even after the TJRC report.
Roll on to the twenty first century and Muslim youth are now branded as terrorists and the new threat to the security of the state.
When Haki Africa, Muhuri, IMLU and others combine their efforts and release their joint reports with the support of Imams, Bishops, Ambassadors and others then perhaps the demand to stop the slaughter will be heeded and the government change strategy in dealing with crime. For now let your voice be heard!
- [email protected] @GabrielDolan1