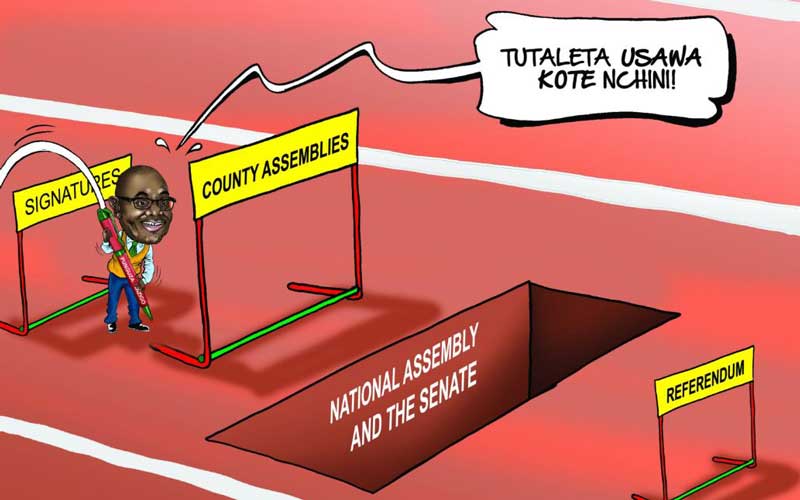 The impoverishment of Mombasa by the government by forcing the use of SGR on all imports is a direct and fundamental assault on devolution, one of the most important pillars of our Constitution. It proves, yet again, that our problems are not about constitutional failure; they are about leadership failure, coupled with a deep contempt of ordinary people. The Constitution demands those in public and state offices do all they can to implement and respect the Constitution, which means supporting and encouraging devolved units, rather than hollowing them out as the SGR order effectively does. Make no mistake: Forcing importers to use the more expensive SGR, and essentially moving the port from Mombasa to Nairobi (and later to Naivasha), is increasing poverty in a county that is already deeply poor with massive inequalities. The port is the center of economic activity and survival for Mombasa, providing jobs, and small-scale businesses—such as kiosks, petrol stations, spare-parts shops, and transporters with customers.
SEE ALSO: Skewed rights point to failed land reforms
By moving the port, the Jubilee regime is replicating the mistakes of the Coastal tourism industry that provides minimal benefits to the locals. The decision is also discriminative, as it benefits to the wealthier Nairobi and Nakuru counties at the expense of Mombasa. It is short-sighted to see all this as something only for Mombasa to deal with. Mombasa residents and its leaders should be at the frontline resisting these devious attempts to punish the county for mistakes by the Jubilee regime in taking over-priced and noxious loans to construct the SGR. Why should Mombasa have to pay the biggest price for decisions that it had nothing to do with?
Public promise
Other counties should take note, for if this can happen to Mombasa, why not others? Today it is Mombasa, but in the next years it could be Narok being punished for the mistakes of the regime, say in destroying Mau Forest. Or perhaps the Mt Kenya and Aberdare parks and forests being cleared for returnees from Rift Valley. It is not enough to lament and complain. Solutions need to be found. And these must start with unraveling the SGR and its loans which is the most proximate cause for Mombasa's current problems. We are yet to see the contract--despite Uhuru Kenyatta's public promise to share it--which must be the starting point in resolving these matters. It is illegal and unconstitutional that contracts taken in our name as Kenyans should remain secret. It is our taxes that are paying back for the loan. So why should we not know what was signed on our behalf? It is utter disrespect and contempt to ask us to pay for something that we have no idea about, even if that is because the loan apparently has a secrecy clause imposed by the Chinese. If that is true, then this Jubilee regime, and Mr Kenyatta especially, will be remembered for returning Kenya to direct colonialism. Common sense dictates that when agents, such as the regime in power, sign contracts that work against the principals—in this case the Kenyan people—then the agents must be held directly responsible. Thus, if the reason for punishing Mombasa is to pay off this bad loan, then those that signed it, and those that initiated and pushed for it, should be the ones paying for the excessive loan that is four times more than the original plan.
SEE ALSO: Leaders' conduct proves contempt for integrity laws
What makes this issue more annoying is the fact that amidst a shortfall of revenue, amidst the demands to pay off obnoxious debts, the state then exempts some of the richest people in Kenya from paying stamp duty on the merger between CBA and NIC banks! It is estimated that this tax exemption will mean a loss of at least Sh350 million, which Kenyans could use in so many ways! There is conflict of interest—which is prohibited by the Constitution—since the Kenyatta family are the majority shareholders of CBA bank and will benefit from this exemption. And it also increases the sense of discrimination. In Kenya, if you are rich and powerful, you get exemptions from paying taxes but if you are a struggling mama mboga in Mombasa, you are on your own. Were the Ethics and Anti-corruption Commission an independent body, this conflict of interest would be treated in the same way Governor Ferdinand Waititu is being treated for benefiting his family! But do not hold your breath! Secondly, it is time for Kenya Ports Authority (KPA) to be reconfigured to suit our current reality with devolution. KPA — like most parastatals — was set up at a time when everything was centralised and controlled by, from and for Nairobi, before we embarked on with devolution. Today, a more appropriate and constitution-friendly KPA should include all stake holders, including the county, dock workers, the community, importers and port users, with the state having less than 30 per cent shareholding. A body as critical to a county as KPA is should never be left to the whims of faraway people who are contemptuous of the county.
SEE ALSO: Hurdles to key data law require a legal remedy
- The writer is former KNCHR chair. [email protected]