Rotich isn't the only one on trial, Jubilee bosses are also in a spot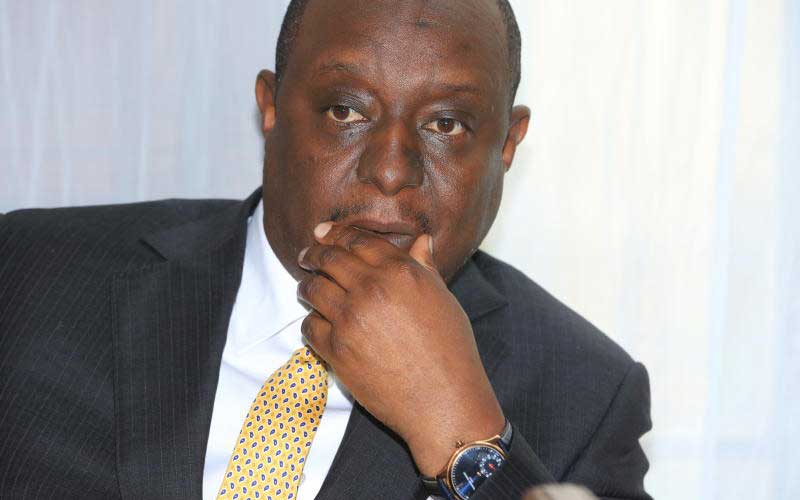 Bringing charges against Treasury Cabinet Secretary Henry Rotich (pictured), is the most audacious action that the Director of Public Prosecutions (DPP) Noordin Hajji has taken since he took office a little over one year ago. His action is audacious not just because Rotich occupies the highest Cabinet office, but also because his arrest has implications for the internal relations in the ruling Jubilee party. Hajji has previously been criticised for failing to act against senior officials regarded as having been involved in egregious corruption scandals that have taken place in the Jubilee government, while also facing accusations that some of his prosecutions are a hatchet job for the political establishment. He must now be hoping that his decision to prosecute Rotich will demonstrate his independence, even win him admirers.
While everyone in Jubilee has expressed public support for the fight against corruption, from which the arrest of Rotich springs, Deputy President William Ruto has shown some prevarication, and at times appeared to contradict the party's stated commitment to fight corruption. In relation to the Kimwarer and Arror dams, over which Rotich is now charged, the Deputy President appeared to minimise the funds lost in the scandal when he publicly declared that a smaller sum of money than that claimed by law enforcement of authorities was lost. The arrest of Rotich, whom the Deputy President appeared to be defending, is the strongest evidence yet of the perceived strains inside the Jubilee party where President Uhuru Kenyatta and deputy Ruto are thought to be pulling apart.
It would appear that the DPP is learning from past situations where arrests were made when investigations were still incomplete. On the day that Rotich and his co-accused appeared in court, the representative of the DPP declared that he was ready for an immediate commencement of the trial.
Eventual termination
This case will, however, not move as quickly as the DPP would have hoped. Rotich is charged alongside 27 other people. That number forms a crowd, the management of which will inherently be slow for the court. If a different lawyer represents each of the 28 people, that will be 56 people that the court must manage. In the comparable Goldenberg and Anglo Leasing scandals there were less than 10 accused persons. Still the cases moved very slowly in court. Delay in the completion of the cases led to ever-declining public interest, making their eventual termination a non-event. By the time that Kamlesh Pattni was discharged from his trial for the Goldenberg scandal in 2013, the case had been in court for in court for 17 years. During that time, three of his co-accused had died. Going by the record of these similar cases, it is safe to assume that Rotich's trial will outlive Kenyatta's second term.
Rotich faces corruption charges the context of which is that public funds were paid for dam projects "without prior planning." On its way to taking power in 2013, Jubilee wrote a manifesto declaring an end to "needless suffering and strife," that Kenyans had experienced for years and announcing that the party would "immediately deliver accelerated economic growth, higher living standards, better healthcare and more jobs."
This was the beginning of the idea of instant development, a uniquely Jubilee invention that was supposed to be consistent with its "digital" self-view, and a contrast with a supposedly more plodding or "analogue" approach that all previous governments had applied to economic matters. The noted "suffering and strife: was the result of that previous approach which it was now Jubilee's mission to reverse. This approach came to be summarised into Ruto's kusema na kutenda. Later, and as part of the new era of instant development, Machakos Governor Alfred Mutua, a Jubilee adherent, would go on to oversee the tarmacking of roads in his county at "supersonic speed," as he put it himself. As part of this, a 21km road was tarmacked in less than four hours.
Acted without planning
If Rotich acted without planning, as the accusation against him asserts, this is not the first time a representative of the government faces accusations of acting without planning.
The Huduma Namba, the new education curriculum and the Big Four agenda are some of the projects that have had to brush aside concerns that little planning preceded implementation.
Therefore, the trouble in which Rotich now finds himself is rooted in Jubilee's repudiation of planning, and the accountability that it brings, as a prerequisite to implementation.
In that sense, while Rotich allegedly committed an offence, similar previous conduct has not necessarily elicited sanction. In this sense, while he is the most senior person in the dock, Rotich is not the only one on trial. His bosses in Jubilee, who have fostered a culture of instant decisions, of action before reflection, of decisions before the evidence, are on trial too.
- The writer is the executive director at KHRC. [email protected]