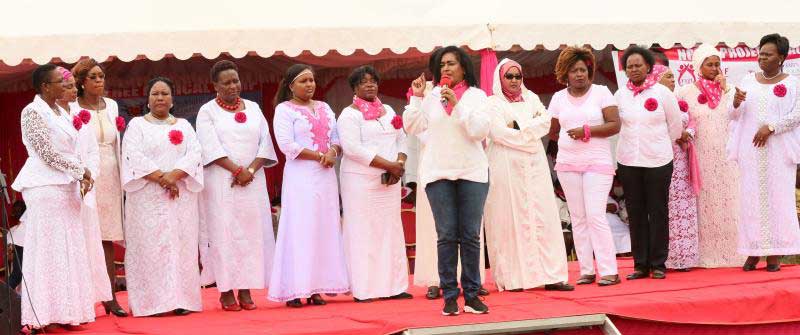 Since politics determines everything, it can be entertaining and dangerous. Subsequently, men engage in elective politics, with women playing supportive roles; knowing the dangers but also expecting to reap three huge benefits; prestige and assorted privileges, material rewards, and hefty financial incomes. On being elected, they use the first to get the second and the third benefits. Winning politicians recoup campaign losses and force decision makers to do their bidding. While resilient politicians continue with their lifestyles despite losing, others lose more than prestige. They lose property, money, friends, or even spouses. A few tough women join the political fray and win against men. Women participation in political fights is evident in the current Kieleweke and Tangatanga confrontation on which presidential candidate to support. Each insists it is loyal to President Uhuru Kenyatta and then loudly accuses each other of undermining the President. Each, with different political origins, has a multi-party membership that keeps shifting. The origin of the term Kieleweke is not clear, but it has something to do with former Prime Minister Raila Odinga. After joining President Uhuru in the March 2018 handshake, Odinga became a serious presidential contender in 2022. Thereafter, critics emerged within Jubilee making it "understood", (kueleweka), that Ruto was not acceptable as future president. They tended to gravitate towards Raila.
SEE ALSO: To survive, Ruto should offer his fallen soldiers as political 'burnt sacrifice'
Nairobi event
The initial Kieleweke leaders appeared to be David Murathe, Maina Kamanda, and Joshua Kutuny. Some, like self-styled "General Kaiyaba" and people calling themselves Kikuyu Council of Elders, captured imagination by purporting to ban the Deputy President from visiting parts of Kenya. By the time Kieleweke was banning Ruto; Tangatanga, referring to Ruto's political supporters, was a household name. Its origin can be traced to a Nairobi event when the president advised the public to give their grievances to Ruto when they see him 'Tangatangaring' in various
vichochoro
. While Ruto considered it an assignment to visit many
vichochoro
, his supporters made it an honour, the way President Andrew Jackson's supporters turned the ASS into the mascot for the Democratic Party. The media, by repeatedly hammering the Tangatanga label on politicians allied to Ruto, made the name well known. In terms of public awareness, therefore, the Tangatanga appeared to outdistance the Kieleweke group. A sense of Tangatanga and Kieleweke political equity received boosting because the women, in both camps, appeared to take control. Starting with the idea of "embrace" bringing prominent women together to condemn femicide, in practice the "embrace" notion led to splits among political women; the Raila women associated with Kieleweke and the Ruto women in the Tangatanga camp. With women in both camps pledging loyalty to the president, a semblance of multi-party equality emerged, competed in the tetema or kiuno dancing, and defended their candidate. The Kieleweke women, wearing white dresses and red carnations, had started going around the counties, beginning in Baringo, promoting "peace" that appeared to be anti-Ruto.
Women leaders
SEE ALSO: Vocal Laikipia Woman Rep ditches Tangatanga for Handshake
Some women, among them Murang'a's Sabina Wanjiru Chege, changed sides from Tangatanga to Kieleweke. She previously helped to arrange Ruto functions that aborted in unclear circumstances. The shift did not augur well and things became politically elephant. The women clash came in Murang'a. The new Sabina invited the Kieleweke women team to Kenol. Although the attendance was good and women leaders engaged in tetema dancing, two Murang'a MPs, Alice Wahome of Kandara and Mary Waithira "Wamaua" of Maragua missed. Some unruliness made Sabina weep and led CAS Rachel Shebesh to intervene and assure an agitated public that the bond between Uhuru and Ruto was solid. The split was real. Watching the events from the Malindi vantage point, were multi-political party Ruto women, wearing "maroonish" dresses. Calling themselves Inua Mama, they pledged loyalty to Uhuru and Ruto, kiuno danced, hit at the events in Murang'a, and ridiculed their counterparts. Among them were new firebrands whose political mouths send some men into hibernation. Alice Wahome of Kandara became the group chair, ODM's Aisha Jumwa of Malindi introduced the kiuno dance, and Catherine Waruguru of Laikipia touted her youth. Others included Susan Kihika of Nakuru and Purity Wangui Ngirichi of Kirinyaga. From Malindi, the Inua Mama went kiuno dancing among the Pokot and accused their rivals of loss of grassroots realism. Attention is increasingly on women. They claim their space in political rough plays. They eclipse the men.
Prof Munene teaches History and International Relations at USIU