Trump-Uhuru talks: Here are the benefits for our two nations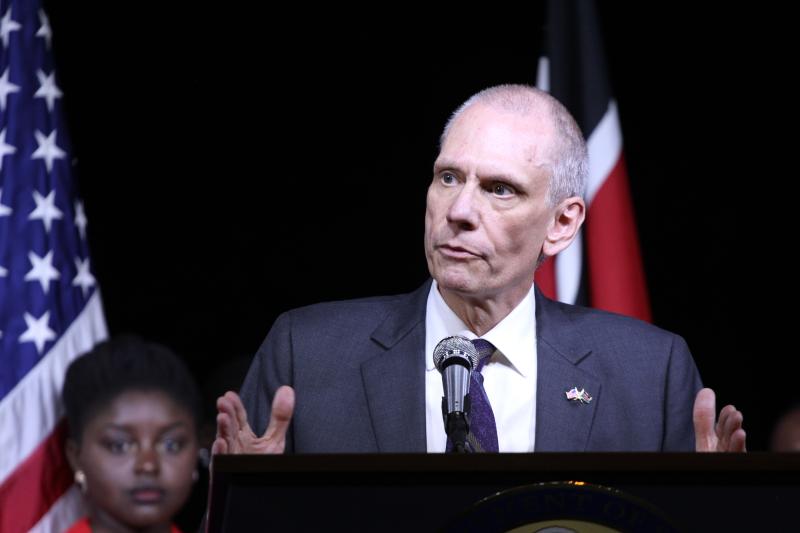 The recent White House meeting between Presidents Donald Trump and Uhuru Kenyatta raised US-Kenya bilateral relations to new heights, advancing our shared commitment to prosperity, security and good governance.
A highlight of the visit was the launch of our new strategic partnership, which will benefit the people of both countries.
The US-Kenya friendship extends beyond our 55 years of diplomatic relations. Each day, thousands of Kenyans study, work, tour and do business in America. And, each day, thousands of Americans do the same in Kenya.
The new strategic partnership builds on these historic and personal connections to make our nations stronger and our citizens more prosperous. To realise the benefits of the partnership, we will hold an annual high-level dialogue to accelerate our cooperation and create new opportunities.
Direct flights between Nairobi and New York City will facilitate these stronger ties, and ease business links and investment, academic exchanges and family visits. Airplanes don't just carry cargo, they carry people and their ideas, energy and creativity.
During President Kenyatta's visit, we also concluded Sh85 billion in commercial deals and engagements with the public and private sector, which will help increase our Sh100 billion annual bilateral trade.
We established a US-Kenya Trade and Investment Working Group to deepen our partnership and add to the success of 18 years of trade under the African Growth and Opportunity Act. Doing business with American firms means quality, transparency, accountability and fairness for employees, investors and customers.
The commercial deals announced included plans for a Sh50 billion project to develop a nationwide digital information and communications infrastructure for the Kenyan government, with American companies providing technology and expertise. This will be the first project under the US-Kenya Memorandum of Understanding signed during the June visit of the US President's Advisory Council on Doing Business in Africa.
Other announcements included Boeing's Sh4.6 billion deal with Kenya Airways to provide spare parts and servicing, Kenya Komposites' Sh1.5 billion investment to establish a manufacturing facility in Kenya for housing and infrastructure construction materials, and Kentegra's Sh400 million investment to revitalise Kenya's pyrethrum sector, increasing incomes for up to 20,000 farmers.
In addition, we announced three investments by the Overseas Private Investment Corporation to support food security (Sh500 million loan to Twiga Foods), affordable housing (Sh5 billion loan to Acorn Housing) and renewable energy (Sh23.3 billion loan to Kipeto Energy) in Kenya.
President Kenyatta's successful meeting with the Business Council for International Understanding (BCIU) further opened the door for trade and investment.
Kenya's role in the fight against terrorism is critical to combating Al Shabaab and ISIS. The US recognises the sacrifices Kenya has made to keep the region safe.
We welcomed Kenya as the newest member of the Global Coalition to Defeat ISIS. President Trump and President Kenyatta pledged to deepen our security cooperation and we will enhance our support for the Kenya Defence Forces. Recently, we have provided over Sh25 billion in boats, helicopters and airplanes, as well as training and information to support the KDF.
We will continue to work closely with Kenya in a wide range of other areas, including health care, education and agriculture. We strongly support President Kenyatta's efforts to increase accountability, transparency and build institutions. We are committed to helping Kenyans win the fight against corruption.
The relationship between the US and Kenya is built on shared values and a commitment to true partnership. Together we can build a better, more prosperous world for both Kenyans and Americans.
-The writer is US ambassador to Kenya