A tale of two cities and intertwined destinies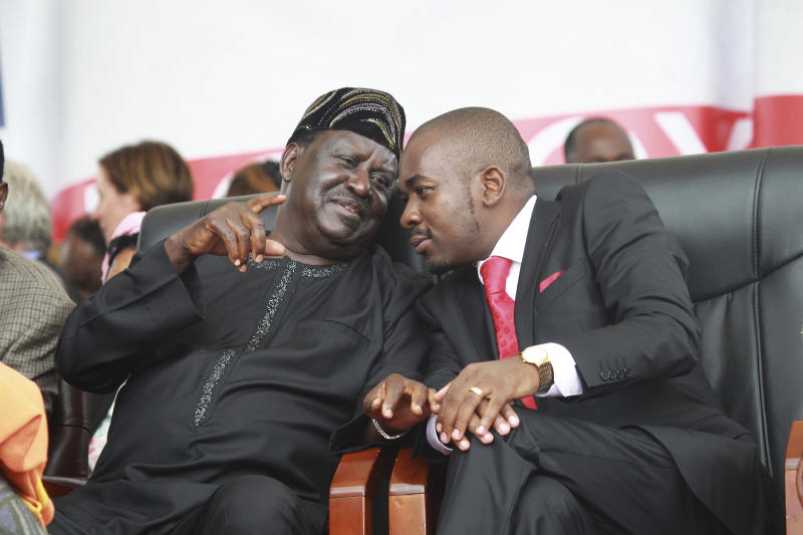 The cities of Nairobi and Harare share similarities. They are capital cities of former British settler colonies and both attained independence and black majority rule after protracted armed struggles. Kenya and Zimbabwe, their respective countries, are rich in resources and have swathes of highly fertile land.
But there are also differences. Whereas Harare has maintained its tree-lined boulevards, Nairobi has gone to seed. The pothole-free roads and pristine streets in Harare are reminiscent of what Nairobi looked like in the 1980s.
Politically, Zimbabwe seems to be following the same trajectory as Kenya, albeit with a decade's time-lag. This is explained by the fact that Zimbabwe got her independence in 1980 while Kenya got hers in 1963. Kenya's elections were held last year, Zimbabwe's have just ended.
In both cases, the results have been disputed violently, with a loss of life. Questions then arise - were the elections in both cases democratic? Do we, in fact, have democratic elections in Africa?
Until the end of the Cold War, Africa merely had semblances of elections. Despotic regimes were propped up and tolerated by alignments to either capitalist or communist countries. After the collapse of communism, democracy was forced on Africa by the West.
We do not appear to have had any ideology of our own. Democracy in the Western sense is a system of government where citizens exercise power by voting in their leaders. This is universal suffrage. While the majority get their way, the minority have their say.
Democratic system
One of the expectations of a democratic system is the renewal of leadership. Towards this end, Kenya and Zimbabwe hold elections every five years. Presidents in both countries are elected for five-year terms. In Kenya, since 2002, there has been a renewal of top leadership at least every 10 years.
In Zimbabwe, from independence until this year, there has been just one president. Even now, President-elect Emerson Mnangagwa is considered an extension of the old order. Uganda and Rwanda have had the same presidents since 1986 and 1994 respectively. This is despite provisions for democratic elections in both countries.
Another legitimate result of a democratic process is the outcome of an opposition. Contrary to what many believe, a vibrant opposition is not an enemy of development. It need not be composed of radical elements out to depose legitimately elected leaders.
An opposition is there to curb the excesses of government through provision of checks and balances. It is also a government in waiting to offer alternative leadership.
After the famous handshake between former prime minister Raila Odinga and President Uhuru Kenyatta, the Opposition in Kenya no longer exists. Does this therefore mean that the concept of democracy has failed?
Perhaps it is time for a new system of renewal of leadership in Africa. As a continent, we appear to have rejected constitutional democracy and embraced a system of inclusion that makes us calmest. A case in point is Kenya's handshake that has made the nation cohesive.
Political progress
Previously, Raila and former president Mwai Kibaki enabled substantial economic, social and political progress through their Grand Coalition government. In Zimbabwe, the economy, which has been in the doldrums, started showing signs of recovery when then opposition leader Morgan Tsvangirai agreed to form a government with former president Robert Mugabe.
It is likely that the Building Bridges initiative of Raila and Uhuru may lead to a plebiscite to decide on constitutional amendments. It should not be about seizing or entrenching power in individuals but about how to foster inclusivity without the option of expulsion or removal.
Because we relate primarily as ethnic communities, we should be more alive to our ethnic diversity. Indeed, there are nuanced acknowledgements of this in our present constitution by references to "regional balance".
Community interests also ought to be considered. An example is the hiving off of Emurua Dikirr from Kilgoris constituency. This has brought calm and secured the interests of the Kipsigis and Maasai communities without any detrimental effects to either side.
The same ought to be happen in national politics and entrenched constitutionally. In so doing, elections will become a true renewal of leadership and not opportunities to fracture the country. Harare is watching how Nairobi handles herself and taking note. Zimbabwe's redemption may yet lie in ours.
Mr Khafafa is vice chairman, Kenya-Turkey Business Council