Spare Auma Obama the jibes, 'gonya gonya' is good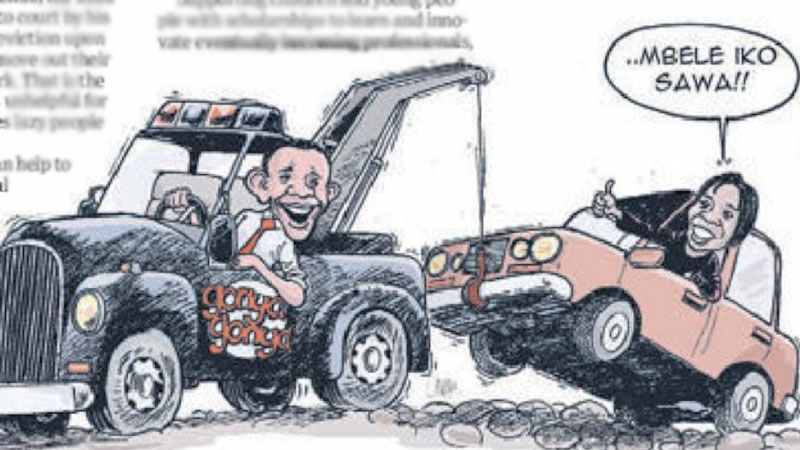 The sister of President Barack Obama, Ms. Auma Obama, has stirred a very useful debate in Kenya and around the world on 'gonya gonya', which has been variously described as begging or seeking assistance, depending on the fluency and proficiency of the translator. Auma was right in articulating the need for self-help in emancipating individuals and communities from destitution but some people misunderstood her.
Clearly, Auma did not mean to disparage well-intended charitable acts, what I call good 'gonya gonya'. Her own Sauti Kuu Foundation is a product of charitable financiers in Germany and elsewhere and is pursuing the philanthropic goal of galvanising her community to take initiative and engage in training, sports and productive activities.
Auma, witty and a chip off the same block as her famous brother, Barack, did well to bring the former President of the United States to advocate these objectives and should continue the debate for us all to embrace good charitable causes but also use our initiative and best efforts to succeed in whatever we embark on.
Why philanthropy
Philanthropy plays a vital role in individual successes and social progress. Indeed, there is undesirable begging, where an individual with ability to pursue a particular option at work, school, business or in facing a difficult situation, takes the easy way out to beg for money or something else and refuses to invest any effort in helping themselves.
The typical example of this are young able-bodied guys we sometimes see on streets begging for money for no good cause. An even better example is the 30-year-old Micheal Rotondo, the deadbeat son who was taken to court by his parents in May 2018 for eviction upon refusal to find a job and move out their home in upstate New York. That is the bad 'gonya gonya' that is unhelpful for the individual and creates lazy people addicted to dependency.
Good 'gonya gonya' can help to solve immense individual needs where otherwise the beneficiary of the charitable act is helpless but the outcome of the assistance can transform the individual into self-reliance and contribute to social progress.
Such worthy causes include tragic personal or community events involving serious illnesses, disasters, accidents and deaths, with catastrophic implications for those affected. For instance, this month, in a tragic road accident in the United States, a pick-up truck driver who swung into the wrong lanes driving against traffic on a highway struck a vehicle carrying the family of Mr. Audie Trinidad killing him and all his four daughters with only his wife and mother of the children surviving with serious injuries.
Such a catastrophic event in most communities will elicit spontaneous support. And indeed, many people from across the world have responded to assist with donations and condolences through online fundraising platforms such as gofundme.com, which has raised more than $271,000 for the medical care of the injured lady and funerals of the deceased.
Why it is good
Philanthropy is, in fact, greatly admired in many societies and taught from childhood through religion, folklore and many other mediums in African and other cultures. Mr. Bill Gates and Mr. Warren Buffett, the world's second and third richest persons respectively, according to the Bloomberg Billionaires Index in July 2018, have pledged to give away to charity almost all their combined wealth of about US$ 178 billion, equivalent to seven times the total annual government expenditure of Kenya.
They follow in the footsteps of many others who have been charitable with deeds of all kinds such as Mother Teresa, John D. Rockefeller, Henry Ford, and Edsel Ford as well as Kenyan philanthropists Alibhai Jeevanjee, Hassanally Rattansi, Tom Mboya, James Mwangi and Susan Mboya.
In the Bill and Melinda Gates Foundation Annual Letter of 2018, Mr. Gates explained that he and his wife are giving away their vast wealth because it is meaningful and fun.
"We think that's a basic responsibility of anyone with a lot of money. Once you've taken care of yourself and your children, the best use of extra wealth is to give it back to society", Bill and Melinda assert.
Supporting children and young people with scholarships to learn and innovate eventually becoming professionals, employees or business people is also good 'gonya gonya' that assists the beneficiary and ultimately contributes to social progress and prosperity. The scholarship funds from governments and charities such as Equity Bank's Wings to Fly in Kenya assists needy children to get an education, lift their families out of poverty and contribute to better national productivity.
Ladder of opportunity
Many of us are beneficiaries of scholarships. I won a Chevening Scholarship from the British government in 2002 that enabled me to complete my graduate studies at the University of Birmingham. Chevening and other scholarship funds around the world contribute to social progress and economic development with thousands of scholarships every year.
The father of President Obama and Auma was a beneficiary of good 'gonya gonya' in the form of a scholarship organized by the deceased Kenyan minister, Tom Mboya, that took him from Kogelo village to the University of Hawaii where he got an education and married Ms. Ann Dunham, begetting a son who would become the first black president of the United States.
Auma was a beneficiary of good 'gonya gonya' from the German Academic Exchange Service (DAAD) that funded her university education all the way to a doctorate degree. President Obama was a beneficiary of a scholarship for undergraduate studies at Occidental College in California before he went on to study at Columbia University and Harvard, largely on student loans.
Altruistic people know that supporting certain types of charitable causes transforms communities and even the world into a better and sustainable place for their children and posterity. Let us all embrace charity for good causes because it is probably the most satisfying thing you will ever do in your life. Philanthropy, also known as good 'gonya gonya', does change the world as many people can testify about its impact in their personal lives and in communities.
Mr Sisule consults for the United Nations on social protection and writes out of Beijing, China. [email protected]